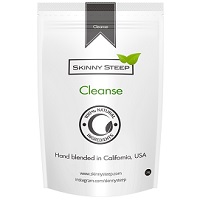 Product Name:  Skinny Steep Cleanse
Overall Rating: 

Morning or Night:  Night
Price:  $9.95
Teabags or Loose Leaf:  Loose Leaf
Servings Included:  7
Cost Per Serving:  $1.42
Laxative Ingredient(s):  Senna Leaf
Moneyback Guarantee:  No
Where To Buy:  Click Here
Ingredients:  Organic Rooibos, Organic Senna Leaf, Organic Chamomile, Organic Fennel Seed, Organic Lemon Balm, Organic Lemongrass, Organic Astragalus, Organic Licorice Root, Organic Nettle
Overall Opinion:
Overall, I give Skinny Steep Cleanse 2 out of 5 stars after using it.
This is a 2 week cleanse, and you need to drink one glass every other day.  I think they only have you drink it every other day because it's a pretty harsh cleanse.  It contains Senna Leaf, which is a really strong laxative.
The first thing I noticed is that they don't say in the directions whether to drink it in the morning or at night.  So the first few times I drank it in the morning and it made me SO tired.  I then looked on their website and it said to drink it at night time.  That makes more sense because it has Chamomile in it, which makes you sleepy.
I lost a little bit of weight by the end of the two weeks, but after stopping the tea, I gained the weight back.  So that just shows I lost water weight and nothing else.
The one thing I really enjoy about this tea is the taste.  It has a light, fruity flavor, which I really like!
But all in all, I don't think this is the best detox tea so I give it 2 out of 5 stars.
Detailed Opinion:
Ease of Use
This is a nighttime detox tea that you only use every other night.
The directions on the packaging don't say whether to take it morning or night, so at first I was drinking it during the day. But when I looked at their website, it says to drink it every other night.  So that was confusing; they sure don't make it easy to know when to use it!
It's a loose-leaf tea, which is a bit more inconvenient to use than tea bags, but I've gotten used to it by now. You'll need to make sure you have a tea infuser, because this one doesn't come with one.
To make the tea, you use one teaspoon, and steep in hot water for 3-5 five minutes.
Taste
Skinny Steep Cleanse tastes really good; it's my favorite thing about this tea.
It actually tastes a little fruity, which I'm not sure why. It has lemongrass in it, but it doesn't really taste lemony.
The taste is very mild and I'm surprised how much I like it!
Ingredient Analysis
I like most of the ingredients in this detox tea, besides the dreaded Senna Leaf.  You guys know how I feel about Senna, I'm really not a fan.
Senna Leaf is a harsh laxative.  Yes, it can help you lose a little weight, but not the healthy way.  And the weight will eventually come back, because a lot of it is just water weight anyways.
As far as the other ingredients go, it has Chamomile, which is known for its relaxing properties and is great to drink for a good night's sleep.  We all know how important sleep is for losing weight!
It also has Organic Rooibos, which is a tea that's said to help in losing weight and metabolizing fat.
The rest of the ingredients are all interesting and healthy as well (and I think some of them give this cleanse its great flavor).
Results
My results weren't as good as I was hoping they'd be.
After only a few days of using this tea, I lost about a pound.  But that was just water weight from drinking a laxative (Senna Leaf).
This tea also made me pretty tired.  (It didn't help I was drinking it during the day the first few times, because the directions don't say to drink it at night!)
This is a 2 week detox, and after using it for 2 weeks, I felt a little leaner than I did when I started it, but that went away after I stopped using the tea unfortunately.  So I don't think this detox tea is your best bet for long term weight loss.
Side Effects
I had the unpleasant side effect of diarrhea (due to the Senna Leaf).  Therefore, I became dehydrated as well. Not fun!
Price/Value
Skinny Steep Cleanse is $1.42 per serving, which isn't the cheapest or the most expensive out there.  It's a pretty average price point.
At first this detox tea sounds extremely cheap, at only $10 per bag, but you need to factor in you only get 7 servings out of one bag.
Guarantee
No, Skinny Steep doesn't have a money back guarantee.
You can return your product if it's unopened, or if there's 80% of the product left in the bag.  That's a very strange return policy and I've never heard of one like that.
Where To Buy
To buy Skinny Steep Cleanse, Click Here.
Skinny Steep Cleanse:  Summary
| Factor | Skinny Steep Cleanse |
| --- | --- |
| Overall Rating | |
| Ease of Use | Directions are lacking. Drink one cup every other night. |
| Taste | Tastes really good… mild and fruity. |
| Notable Ingredients | Senna Leaf, Rooibos, Chamomile |
| Results | Lost a little weight but gained it back once stopping. |
| Side Effects | Tiredness, diarrhea, and dehydration |
| Price/Value | It's $1.42 per day which is a good price. |
| Guarantee | No guarantee |
| Where To Buy | Click Here |
Category: Detox Tea Reviews