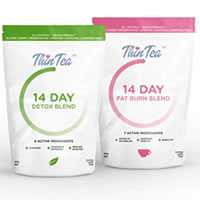 Product Name:  ThinTea Detox (14 Day)
Overall Rating:  

Morning or Night:  Morning and Night
Price:  $34.95
Teabags or Loose Leaf:  Loose Leaf
Servings Included:  14
Cost Per Serving:  $2.49
Laxative Ingredient(s):  Dandelion Root
Moneyback Guarantee:  Yes
Where To Buy:  Click Here
Ingredients:  Detox Blend: Organic Fennel Seed, Organic Nettle Leaf, Marshmallow Leaf, Organic Juniper Berry, Organic Dandelion Root, Organic Rose Petal.
Fat Burn Blend: Organic Peppermint, Olive Leaf, Dandelion Leaf, Hawthorn Leaf & Flower, Coleus Root, Organic Cinnamon, Ginger Root
Overall Opinion:
After using ThinTea for 2 weeks, I gave it 3 out of 5 stars.  It's a little better than your average detox tea.
For starters, I like that neither of these teas (morning or night) have a harsh laxative in them.  They both have a gentle laxative, but it didn't give me any problems.
I felt really good while using this teatox.  I was less bloated, and felt like I was really on the way to losing some weight.  But a big part of that was following the ThinTea eating plan as well.  Healthy eating is key to getting fit and staying fit.
Now, the taste of the morning tea isn't the best, but the night tea made up for that and was pretty tasty.
Both of the teas have pretty good ingredients, but I'm a little weary of Fennel Seed, as it contains estrogen, and could mess with your hormones.
Both the Detox and Fat Burn Blend are loose leaf, and one of them is pretty messy. (I ended up with so many leaves floating around in my cup.)  So I kind of wish they were in tea bags instead.
One huge plus for ThinTea is they have a 14-day guarantee.  So you can return the product for any reason within 14 days.  Not many detox tea companies stand behind their products like this.
So overall, this tea got 3 out 5 stars from us.
Detailed Opinion:
Ease of Use
Both the morning and nighttime teas are loose leaf.  This is just a little more inconvenient because it adds an extra step.
The Detox Blend is the one you drink every morning with breakfast.  The directions say to place 1 teaspoon of tea in an infuser and then steep for 3-5 minutes.  Easy enough.  The Morning tea is chunkier than the evening one; I could actually see dried rose petals in it, which gave it some nice color.
Now, the Fat Burn Blend you drink at night before dinner.  I didn't really like having to drink a glass of tea right before I ate.  The directions for this tea are the same, brew for 3-5 minutes.  The Fat Burn tea is a lot thinner, so a lot of it escaped the infuser and ended up floating around in my glass. A few chunks floating around is okay, but this one had a lot and it wasn't very appetizing.
Taste
ThinTea Detox Blend has a very odd taste.  It tastes very strongly of an herb/spice, which I think is the Fennel Seed.  At first I hated the taste, and although it grew on me a little bit, I still didn't enjoy it.  The taste is pretty bitter, and I honestly don't think honey or lemon would enhance it at all.
The ThinTea Fat Burn Blend was much easier to drink.  It tastes like Peppermint and is pretty smooth, although on the stronger side.  I like how refreshing the mint tea was to drink.
Ingredient Analysis
The first ingredient in ThinTea Detox Blend is Organic Fennel Seed.  Fennel Seed contains estrogen, which is said to help you digest food more easily.  I don't like the idea of a hormone being in my tea; I feel like that has the potential to screw with your natural hormone levels.
The Detox Blend also contain Organic Nettle Leaf, which directly affects your kidneys. It's commonly used to help fight urinary problems, as it's a diuretic (meaning it will make you pee often).
Another ingredient in the ThinTea morning blend is Marshmallow Leaf.  This is an interesting leaf from a plant that is used for all kinds of ailments ranging from inflammation to swelling in mucous membranes in your chest.
Both the morning and nighttime blend contain Dandelion Root, which is a mild laxative.  I'm okay with a little bit of a mild laxative, but I wish they'd only included this ingredient in one of the teas.  I'd rather only have this mild laxative once per day instead of twice.
Now, the Fat Burn Blend also has Organic Peppermint in it.  That's where its minty, fresh flavor comes from.  Peppermint is a great ingredient that can help with digestion, pain, inflammation, and more.  I really like this ingredient.
Olive leaf is another ingredient included in the ThinTea nighttime blend.  The claims of this ingredient are a bit far fetched in my opinion (helping to prevent cancer), but I certainly don't think it hurts anything by including Olive leaf.
Results
I tried the 14 Day Detox, so I gave this tea a try for 2 weeks. I did see some good results, but I don't think they were from solely drinking the tea.
While using their detox teas, ThinTea encourages you to strictly follow their ThinTea Eating Plan.  I really enjoyed using their eating plan; it even included some recipes.  I think the main results I saw came from following this eating plan, and not necessarily using the teas.  But I also don't think the teas hurt anything.
By the end of the two weeks, I was feeling a lot less bloated and I felt like my healthy eating and exercise were really starting to pay off.
Neither of these teas contain caffeine, which is great for those of you who try to avoid it.  But personally, I wish the morning tea gave me more energy so I could really push myself when working out in the gym.
Side Effects
I felt pretty tired while using this teatox; I found myself dragging some days. Other than that, I didn't feel any negative side effects.
Price/Value
ThinTea is $34.95 for 14 days.  That's $2.50 per day, which is very expensive for a detox tea.
Guarantee
Yes, they have a 14-day money back guarantee.  You can even try the tea and send it back if you don't like it.
Where To Buy
To buy ThinTea Detox, Click Here.
ThinTea Detox:  Summary
| Factor | ThinTea Detox |
| --- | --- |
| Overall Rating | |
| Ease of Use | It's a loose-leaf tea you use morning and night. |
| Taste | Morning one tastes gross, but the evening blend is okay… it's fresh and minty. |
| Notable Ingredients | Organic Fennel Seed, Organic Nettle Leaf, Dandelion Root, Peppermint, Olive Leaf |
| Results | I felt less bloated and all around pretty good. |
| Side Effects | I was pretty tired while using this teatox. |
| Price/Value | It's $2.50 per day, which is expensive compared to other teas. |
| Guarantee | Yes, they have a 14-day guarantee. |
| Where To Buy | Click Here |
Category: Detox Tea Reviews