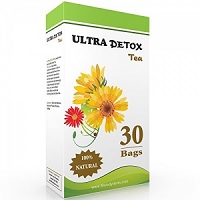 Product Name:  Tisane Ultra Detox Tea
Overall Rating: 

Morning or Night:  Doesn't say
Price:  $57.20
Teabags or Loose Leaf:  Teabags
Servings Included:  30 bags
Cost Per Serving:  $1.90
Laxative Ingredient(s):  Senna Leaf
Moneyback Guarantee:  No
Where To Buy:  Click Here
Ingredients:  Green Tea, Black Tea, Senna Leaf, Plantain Rhizome, Selfheal
Overall Opinion:
I really don't care for this detox tea and find a lot of things about it to be shady.
To start, it doesn't come with any directions on how to use it.  So you just have to guess and hope you use it right.  They also misspelled some very easy words on the box, which makes me think there wasn't a lot of care or research put into making this tea.
Tisane contains Senna Leaf which is a very scary ingredient that can cause harsh laxative effects. So needless to say, this tea had me running to the bathroom often and it wasn't fun.
I didn't see any positive results as far as weight loss or bloating go.  The only thing I noticed is that I initially lost a little water weight, but that was due to the laxative effect (which isn't healthy).
This tea doesn't taste bad; I actually enjoy the taste.  But the taste isn't enough to make up for all the negatives of this tea.
Detailed Opinion:
Ease of Use
This tea comes with no instructions on how to use it, and there's nothing online either.
It comes with 30 teabags, but it doesn't tell you how many cups you need to drink per day or how long you need to use the detox tea for.
So you kind of have to guess.  I've never seen a detox tea that doesn't come with instructions.
I ended up just drinking one cup per day because I didn't want to overdo it.
I steeped it for about 5 minutes, which is a pretty average time for steeping teas.
Taste
The taste of this tea is the one thing I enjoyed.  It tastes like a mild black tea with a hint of sweetness.
It's overall pretty bland tasting, but I don't really mind that because I've tried some harsh tasting teas.
It has a definite tea taste, not much else as far as flavoring goes.
Ingredient Analysis
Tisane Detox Tea only has 5 ingredients in it, which I'd usually like.  However, one of these ingredients is Senna Leaf, which is a really harsh laxative.  I really don't like this ingredient at all because it has such bad effects on my body.
Two of the ingredients I had never heard of before… Plantain Rhizome and Selfheal.  After I researched them, I found out that Selfheal is a member of the mint family.  It's said to have some medicinal properties such as healing sore throats, treating headaches, and wounds.
Plantain Rhizome is also known as the Asian Water Plant.  It's used for UTIs, high blood pressure, and many other things.
One thing that worries me is that "Black Tea" is misspelled on the box of this tea… if they didn't take the time to make sure "Black" is spelled right, what else didn't they take time to check?
Results
I think this detox tea is very unhealthy to use.  I initially lost a few pounds, but it wasn't the healthy way.  It was water weight due to the fact I was using the bathroom so much.
So as soon as I stopped using this teatox, I gained all the weight back and then some.
I really prefer to lose weight the healthy way, and you should too.  Diet, exercise, and a good (high quality) detox tea has worked better for me.
So overall, I didn't see any positive weight loss or detoxing results.
Side Effects
I had some unpleasant side effects while using this tea.
I was using the restroom a lot, and even experienced some diarrhea.
I was also very congested and had bad allergies while using this tea.
Price/Value
Tisane Ultra Detox Tea is $57.20 for a 30 day supply.  That is SO expensive and definitely not worth it for this teatox.
Guarantee
No, I couldn't find any money back guarantee for this product.
Where To Buy
To buy Tisane Ultra Detox Tea, Click Here.
Tisane Ultra Detox Tea:  Summary
| Factor | Tisane Ultra Detox Tea |
| --- | --- |
| Overall Rating | |
| Ease of Use | There's no instructions on how to use this tea. |
| Taste | Tastes good, like black tea with a hint of sweetness. |
| Notable Ingredients | Senna Leaf, Plantain Rhizome, Selfheal |
| Results | No positive results |
| Side Effects | Loose stool, congestion |
| Price/Value | It's $57.20 per box, which is SO expensive. |
| Guarantee | No guarantee |
| Where To Buy | Click Here |
Category: Detox Tea Reviews