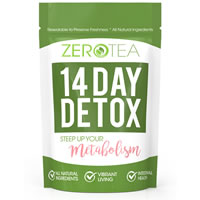 Product Name:  Zero Tea 14 Day Detox Tea
Overall Rating: 

Morning or Night:  Morning
Price:  $20.00
Teabags or Loose Leaf:  Teabags
Servings Included:  14
Cost Per Serving:  $1.43
Laxative Ingredient(s):  None
Moneyback Guarantee:  No
Where To Buy:  Click Here
Ingredients:  Organic Rooibos, Cinnamon, Nutmeg, Red Peppercorn, Cornflower, Orange Peels, Cloves, Green Tea
Overall Opinion:
I really like this detox tea, so I gave it 5 out of 5 stars.
First off, it tastes SO good.  It tastes like cider.  And it smells delicious too; it reminds me of Christmas.
I also like the way this tea makes me look and feel.  While using this tea, I also worked out 5 times a week and ate pretty healthy.  The combination of all three really works well.  I noticed I was less bloated and had a lot of energy.  Overall, I felt leaner and better than I had in a while.
I also appreciate that Zero Tea 14 Day Detox is easy to use.  You just need to drink one cup in the morning.  They even encourage you to drink a full glass of water before you drink the tea, which I love.  I fully support drinking as much water as possible!
The one thing I really don't like about this teatox is they don't offer a money back guarantee.  I can really appreciate when a company stands behind their product, and Zero Tea doesn't.
This tea isn't a miracle tea, but I think it's one of the best detox teas out there.
Detailed Opinion:
Ease of Use
This detox tea is very easy to use.  You just need to drink one cup in the morning.  The directions say to bring water to a light simmer, not boiling, than steep for 3-5 minutes.
They also encourage you to drink a full glass of water in the morning when you wake up, before you drink your tea.
Taste
Zero Tea 14 Day Detox tastes SOO good.  When I first opened the bag, I was surprised by how good it smelled.  I thought there was no way the tea would taste as good as the smell, but it does!
It tastes like cider and has notes of Christmas in it.  It has cinnamon, cloves, and nutmeg in it so I think that's where it gets its "Christmas-y" taste.
The taste is mild and cozy and I can't get enough of it.
Ingredient Analysis
Another thing this tea has going for it is great ingredients.
It doesn't contain any laxatives in it, which I'm ecstatic about.
It has both Green Tea and Rooibos Tea in it.  Green tea is great for a little caffeine boost, and also oxidizing fat at a higher rate than usual.  Rooibos is caffeine free and is said to be good for asthma, lowering blood pressure, and is rich in polyphenols.
Cornflower is also included in this detox tea.  This ingredient is used to treat fevers, constipation, and some menstrual disorders.
Cloves, cinnamon, and nutmeg are also part of this tea.  Not only do they pack a great flavor punch, but all these spices have health benefits as well.
Results
My results from this detox tea were great.
I looked and felt great.  I loved the little energy burst it gave me each morning after drinking it.  It left me ready to work out and conquer the day.
I lost about 1 pound while using this tea, and I could tell it was all fat, not muscle.  Keep in mind, I also work out 5 times a week and keep a healthy diet.  But this tea definitely helps me kick it up a notch in the weight loss/bloating department.
This tea leads to less bloating and curbed cravings, which is what I look for in my detox teas.
Side Effects
Zero Tea 14 Day Detox doesn't give me any negative side effects.  It gives me a little burst of energy though, which is very welcome!
Price/Value
Zero Tea 14 Day Detox is $20.00 for a 14 day supply.  This is a pretty average price point for a detox tea.
Guarantee
No, they don't offer a money back guarantee through their website. So lame!
Where To Buy
To buy Zero Tea 14 Day Detox, Click Here.
Zero Tea 14 Day Detox:  Summary
| Factor | Zero Tea 14 Day Detox |
| --- | --- |
| Overall Rating | |
| Ease of Use | Easy to use, drink one cup each morning |
| Taste | Tastes delicious, like cider |
| Notable Ingredients | Green Tea, Rooibos Tea, Cornflower, Cloves |
| Results | This tea makes me look and feel great. |
| Side Effects | No negative side effects |
| Price/Value | It's $1.43 per day which is pretty average. |
| Guarantee | No guarantee |
| Where To Buy | Click Here |
Category: Detox Tea Reviews