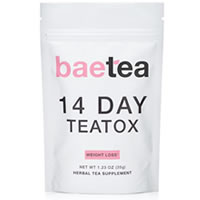 Product Name:  Baetea 14 Day Teatox
Overall Rating:  

Morning or Night:  Morning
Price:  $35.00
Teabags or Loose Leaf:  Teabags
Servings Included:  14
Cost Per Serving:  $2.50
Laxative Ingredient(s):  None
Moneyback Guarantee:  No
Where To Buy:  Click Here
Ingredients:  Rooibos Leaf, Green Tea Leaf, Oolong Wu Yi Leaf, Ginger Root, Pomegranate, Guarana Seed, Matcha Green Tea, Garcinia Cambogia Extract, Natural Flavors, Lemon Juice, Sea Salt, Citric Acid, Stevia Powder
Overall Opinion:
I found Baetea to be an average slimming tea, so I gave it 2 out of 5 stars.
Let's start out with the things I like about this TeaTox.  I really enjoy the taste of it; it's very refreshing and tastes like lemon.
I also like the ease of use due to the tea bags.
As far as the things I wasn't a fan of, this one has a very strong laxative effect.  It had me running to the bathroom when I was halfway through each cup!
I also felt very sleepy after drinking this tea, and very dehydrated.
The ingredient lineup doesn't look too bad; I just have a hard time believing there is no laxative in this tea.
So overall, this tea had a very strong laxative effect, which I'm not a big fan of.
Detailed Opinion:
Ease of Use
Baetea is pretty easy to use.
It comes in tea bags, as opposed to loose leaf tea, which is very convenient.
The odd thing about these tea bags is that they don't have strings attached to pull them out of your mug.  So it's literally just the tea bag, and I had to fish it out with a fork.
I like that they came in tea bags because that makes them easier to use; however, you can't just throw one in your purse to bring along for later.  They aren't packaged individually, so that seems very insanitary to me.
Taste
Baetea tastes really delicious.
Right when you open the bag, you're overwhelmed with a fruity lemon scent, and that's exactly what the tea tastes like.
It's lemony and refreshing.  It kind of tastes like lemon tea with a little honey in it.
I could easily drink this tea everyday just based on the taste.
Ingredient Analysis
This tea contains green tea leaf and matcha green tea.  Matcha has more caffeine than your average tea, however, I don't think they put much in the Baetea blend because I didn't feel any effects of caffeine.
This tea also contains Rooibos Leaf, which is said to help reduce your stress hormone (also the hormone that causes hunger).  However, I didn't notice any change in my appetite while using this tea.
Another ingredient found in Baetea is Garcinia Cambogia Extract, which is supposedly great for weight loss.
There is also Stevia Powder that's used to give this tea a bit of a sweet kick.
Results
This tea helped me lose a few pounds of water weight.  However, this is very short term, and as soon as you stop the tea, or hydrate, the weight will come back.
I also don't believe it's healthy to lose a few pounds of water weight, just due to a powerful laxative effect.  That will dehydrate your body, and isn't healthy long term.
I'd be okay with a gentle laxative effect to detox my body, but this one was very harsh and I really didn't like it.
Side Effects
Now, although none of the ingredients listed in this tea are laxatives, this one sure has the same effects as a laxative.
Baetea used to include Senna Leaf in their teas (which is a laxative), but they claim to have removed it from their teas.  I don't know if they did or not, because this one sent me running to the bathroom half way through my first cup.
I chalked it up to it being my first day using the tea, but when it continually happened throughout the 2 weeks I used it, I knew it had to be the tea.
Although this tea works as a powerful laxative, I didn't have any stomach pain while using it.
I did notice that I was extra tired and groggy after drinking it though (funny, because it's supposed to have the opposite effect!).
I also felt extremely dehydrated while using this tea; I found myself chugging water throughout the day.
Price/Value
Baetea is $35.00 for a 14 Day TeaTox.  That works out to $2.50 per serving, which is slightly higher than average, but not unreasonable.
Guarantee
Baetea doesn't offer any returns, no matter what the situation.  That's a big red flag in my eyes.
Where To Buy
To buy Baetea, Click Here.
Baetea:  Summary
| Factor | Baetea |
| --- | --- |
| Overall Rating | |
| Ease of Use | Easy to use, but I wish the tea bags had strings on them! |
| Taste | Very good, it tastes like lemon tea with honey. |
| Notable Ingredients | Rooibos leaf, Green Tea Leaf, Oolong Wu Yi Leaf, Matcha Green Tea, Garcinia Cambogia Extract |
| Results | I lost of few pounds of water weight, but gained it back after. |
| Side Effects | I was tired, was running to the bathroom, and was dehydrated. |
| Price/Value | This teatox is $35.00 for 2 weeks, which is more expensive than your average teatox. |
| Guarantee | No money back guarantee, they don't accept any returns. |
| Where To Buy | Click Here |
Category: Detox Tea Reviews