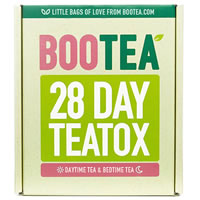 Product Name:  Bootea 28 Day Teatox
Overall Rating:  

Morning or Night:  Morning and Night
Price:  $55.00
Teabags or Loose Leaf:  Teabags
Servings Included:  28
Cost Per Serving:  $1.96 per day
Laxative Ingredient(s):  Senna Leaves, Burdock Root, Dandelion Leaf
Moneyback Guarantee:  No
Where To Buy:  Click Here
Ingredients:  Daytime Tea: Chinese Oolong Tea, Lemongrass, Mate Leaves, Ginger Root, Fennel Seeds, Dandelion Leaf, Ginseng Root, Gotu Kola Leaves, Nettle Leaves
Bedtime Tea: Senna Leaves, Peppermint Leaves, Fenugreek Seeds, Liquorice Root, Burdock Root, Hawthorn leaves, Valerian Root, Psyllium Seeds
Overall Opinion:
I was under-impressed with Bootea 28 Day Teatox, so I ended up giving it 2 out of 5 stars.
For starters, it has Senna Leaves in the Bedtime tea, and I really don't like this ingredient.  It's a strong laxative that literally purges your body, not detox it.  If I wanted a strong laxative, I'd go to the drugstore.
I also wasn't a fan of the taste of the Daytime tea.  The Bedtime tea is okay, but the Daytime really didn't taste great.
I saw no results as far as weight loss/detox goes, and I had some unpleasant side effects (such as going to the bathroom a lot, lack of energy, and headaches).
The tea is pretty easy to use, but that's not enough to redeem it.
Detailed Opinion:
Ease of Use
Both the Daytime and the Bedtime tea are pretty easy to use.  They both come in teabags which is great.
The Daytime tea says to infuse it for 3 minutes.  It has a light laxative in it (Dandelion Leaf) so make sure not to steep it TOO long.  You drink the Daytime tea daily.
The Bedtime tea you only drink every other night, and it also says to steep it for 3 minutes, which in my opinion is too long because it contains Senna leaves.
Taste
Bootea Daytime tea tastes like unflavored, unsweetened, green tea.  It's pretty bland, and I don't know if a lot of people will like it unless they add honey or lemon to it.  I didn't look forward to drinking this one because the taste was just kinda blah.
The Bedtime tea is a strong minty flavor.  The flavor is very smooth, and it went down easy.  It did have kind of a weird flavoring as well (which I'm guessing is from the Senna Leaves), but the overwhelming flavor is mint.  I enjoyed it more than the morning tea, and found it to be a relaxing taste before bed.
Ingredient Analysis
Bootea Morning tea has a great ingredient lineup. It includes Chinese Oolong Tea, which is packed with antioxidants and helps boost your metabolism.  It also contains Mate Leaves, which contain a decent amount of caffeine, and is also packed with antioxidants.  The morning tea included Dandelion Leaf, which is a light laxative ingredient.
The Bedtime tea contains Senna Leaves, which in my opinion, is an awful ingredient.  It's a very powerful laxative known to have explosive effects.  Peppermint Leaves and Fenugreek seeds are also in the nighttime tea.  Fenugreek seeds are said to help with digestive issues, and other conditions such as PCOS, diabetes, and constipation.
Results
While using this teatox, I really didn't notice any results at all.  I initially lost about 1 pound of water weight from using the bathroom so often.  But I quickly gained that weight back once I ate.  So I didn't have any long term weight loss.  I didn't notice less bloating, and my energy levels weren't any different than they usually are.
This tea was a let down in the results department.
Side Effects
I was hoping to at least get a burst of energy with the morning tea, but sadly I didn't.
I noticed I was using the bathroom way more than I should be while using this tea.  I felt really unhealthy about this.  Senna Leaves are such a strong laxative, and like clockwork, I always have to use the restroom a few hours after using Senna.  It's not fun (or healthy) to be running to the bathroom so frequently!
I also noticed a few mornings I would wake up with a headache.
Price/Value
Bootea 28 Day Teatox is $55 for 28 days.  That's very expensive, and not worth it in my opinion.
Guarantee
Bootea doesn't offer a money back guarantee.  You can return the product within 30 days, but only if it's unused, so lame!
Where To Buy
To buy Bootea 28 Day Teatox, Click Here.
Bootea 28 Day Teatox:  Summary
| Factor | Bootea 28 Day Teatox |
| --- | --- |
| Overall Rating | |
| Ease of Use | They come in teabags, so it's pretty easy to use. |
| Taste | Daytime tea isn't very good, but the Bedtime tea is okay. |
| Notable Ingredients | Chinese Ooloong Tea, Dandelion Leaf, Mate Leaves, Senna Leaves |
| Results | No weight loss results at all |
| Side Effects | Pooping a lot, headaches, and no energy |
| Price/Value | It's $55 per 28 days… pretty expensive. |
| Guarantee | No guarantee |
| Where To Buy | Click Here |
Category: Detox Tea Reviews