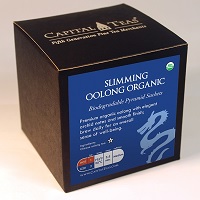 Product Name:  Capital Teas Slimming Oolong
Overall Rating:  

Morning or Night:  Doesn't say, probably morning
Price:  $14.00
Teabags or Loose Leaf:  Loose Leaf
Servings Included:  12
Cost Per Serving:  $1.17
Laxative Ingredient(s):  None
Moneyback Guarantee:  No
Where To Buy:  Click Here
Ingredients:  Chinese Oolong Tea
Overall Opinion:
Capital Teas Slimming Oolong is a great detox tea that will work for a lot of people.
This tea tastes great and is very mild for those of you who don't like a strong taste.  It has a bit of caffeine in it, but not an overload.  It's just enough for a little energy boost.
While using Capital Teas Slimming Oolong, my body felt really good.  I felt less bloated, more energized, and stronger.  This is a great tea to drink in conjunction with working out because it helps you burn fat, while your workouts help you gain muscle.  This tea is great for long-term weight loss results.  It won't help you drop 5 pounds over night, but with consistent use, you'll find it helps curb your cravings, thus aiding in healthy weight loss.
Another thing I love about this detox tea is the ingredient list.  There's only one ingredient in this tea, yep you heard that right…one!  The sole ingredient is Chinese Oolong tea, which is great for boosting your metabolism, keeping cravings at bay, and is said to help keep maintain a health cholesterol level.  The best thing about this tea is it doesn't contain any of the unhealthy laxatives that a lot of teas contain.  So you don't need to worry about running to the restroom every few hours.
Overall, this is a great detox tea no matter what your weight loss/detox goals are.
Detailed Opinion:
Ease of Use
Although this tea isn't as easy to use as ones that come in teabags, it's not that bad.  Capital Teas Slimming Oolong is a loose-leaf tea, that is chunkier than most.  The chunky-ness of this tea actually comes in handy while steeping it.  A lot of finer loose-leaf teas escape the infuser and wind up floating in your cup, and I didn't experience that with this tea.  The tea itself kind of resembles little marijuana buds.
The directions say to use 1 tsp per 6 ounces of boiling water, and steep for 3-5 minutes.  Since this one doesn't have a laxative ingredient, if you steep beyond 5 minutes, that shouldn't be a problem.  The longer you brew, the stronger your tea will be.  You can also make this into an iced tea if you choose to do so.
There are no instructions as to whether you should drink it in the morning or at night, which is a bit odd.  Oolong has a mid-range caffeine content, so I'd recommend drinking in the morning.
Taste
This tea is very mild in my opinion.
It has a smooth, slightly floral taste.  I love the taste, and it smells great as well.  The taste is very relaxing, and I like knowing it's not flavored with anything but the Oolong tea itself.
For those of you who aren't a fan of strong, pungent flavors, this is a great option for you.  The mild flavor is something a lot of people will like.  On the other hand, for those of you who love lots of flavor, you may find this one a bit too bland for your liking.
Ingredient Analysis
This detox tea consists of one ingredient… Chinese Oolong Tea.  I love the simplicity of this tea, and how it doesn't contain any strong laxatives that some other detoxes do.
Oolong Tea is said to help speed up your metabolism and also curb cravings.  It's also great for keeping the weight off once you've lost it.  Oolong can also aid in building a healthy immune system when used consistently.  I love Oolong tea for all these uses, there's no downside!
Results
After using this tea for about 2 weeks, I felt fantastic.
I really felt that it helped me take my workouts to the next level because this tea was helping me burn fat while I was building muscle in the gym.  The small amount of caffeine it contains made it ideal for me to drink in the morning, or before a workout, for an extra boost of energy.  I also felt very strong and healthy while using this tea.  While using this tea, I noticed I wasn't craving certain fatty foods I normally crave (Flaming Hot Cheetos anyone?), as much as I usually do.
Now, it's no miracle tea, and the weight didn't miraculously fall off over night.  But with continued use, this tea was a great addition to my diet and workout regimen.  Long term this Oolong Tea will definitely help keep your cravings at bay, and help your metabolism stay strong.  These are all huge benefits to using this tea while trying to lose weight.
Side Effects
I didn't have any side effects at all while using this tea.
Price/Value
Capital Teas Slimming Oolong is $14.00 for a 12 day supply.  That works out to $1.17 per day, which is pretty average, maybe even a little under average.
Guarantee
Capital Teas doesn't offer a money back guarantee, which really sucks.  You can return the tea unopened, but that's not a very good return policy if you ask me.  What happens if I tried it and didn't like it?!
Where To Buy
To buy Capital Teas Slimming Oolong, Click Here.
Capital Teas Slimming Oolong:  Summary
| Factor | Capital Teas Slimming Oolong |
| --- | --- |
| Overall Rating | |
| Ease of Use | Not bad, even though it is a loose-leaf tea. |
| Taste | Tastes delicious, very mild and a little floral taste. |
| Notable Ingredients | Chinese Oolong Tea |
| Results | I felt great, and noticed some long-term weight loss effects. |
| Side Effects | No side effects |
| Price/Value | It's $14.00 for a 12-day supply. |
| Guarantee | No guarantee |
| Where To Buy | Click Here |
Category: Detox Tea Reviews