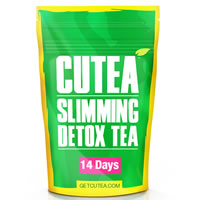 Product Name:  Cutea Slimming Detox Tea – 14 Days
Overall Rating:  

Morning or Night:  Morning
Price:  $24.95
Teabags or Loose Leaf:  Teabags
Servings Included:  14
Cost Per Serving:  $1.78 per day
Laxative Ingredient(s):  None
Moneyback Guarantee:  No
Where To Buy:  Click Here
Ingredients:  Organic Green Tea, Organic Tulsi (aka Holy Basil), Organic Spearmint, Organic Rose Hips, Organic Lemon Myrtle, Organic Linden Blossoms, Organic Ginger Root
Overall Opinion:
I gave Cutea Slimming Detox Tea 3.5 out of 5 stars.  So it was better than your average teatox, but there were still a few things I didn't like.
I really like how the company uses organic ingredients, with no GMOs, hormones, or gluten.  I also really like that Cutea provides children with clean drinking water with each purchase; it's always nice when companies give back.
The tea itself is very easy to use.  It comes in teabags, and you steep them for 5-7 minutes each morning…. easy peasy.
I also really like how Cutea Slimming Detox Tea doesn't contain any harsh laxatives.  I'm thankful they stayed away from Senna Leaves especially because that ingredient is scary!  The ingredients in this tea are great.
The taste of this detox tea is okay.  To me it tastes like a lot of detox teas out there, and there was nothing special about it.  It tastes like mint green tea, which seems to be a common theme among teatoxes.  I didn't dislike the taste, but it wasn't my favorite either.
My results were also just okay.  I was less bloated and lost about a pound.  So that was good, but could've been better.
Cutea doesn't have a money back guarantee, which is always a drawback in my eyes.
So overall, this teatox is better than average, so I gave it 3.5 out of 5 stars.
Detailed Opinion:
Ease of Use
Cutea Slimming Detox Tea comes in teabags that are very easy to use (although they don't have the string to fish them out of your cup).
The directions say to infuse the teabag for 5-7 minutes, and then enjoy.  There are no laxatives in this tea, which is nice.
It doesn't say whether to drink this in the morning or at night, but I'd recommend drinking in the morning because it contains caffeine.
Taste
The taste of this tea is good, but not great.
It tastes like mint green tea to me.  I liked the taste, but it tastes like so many other detox teas out there, so in my opinion, it was nothing special.
I didn't dread drinking it daily, but I didn't look forward to it either.
The taste isn't overly strong, and those of you who enjoy mint tea will probably enjoy it.
Ingredient Analysis
Cutea Slimming Detox Tea has a nice list of ingredients.   I love that it doesn't contain any laxatives, like a lot of the harsher detox teas out there.
It contains Green Tea, which is great for your metabolism and also for giving you energy.
It also has Organic Tulsi (also known as Holy Basil), which is great for stress levels.  It's been used for hundreds of years for therapeutic reasons, acne, adrenal fatigue, and anxiety.
Organic Spearmint is included in this detox tea, and that's obviously where it gets its minty kick from.  Spearmint is good for your hormones and fighting off acne.
Results
I found while using this detox tea I had a lot of energy, and lost about 1 pound.  A pound isn't that much, but keep in mind this is only a 2 week teatox, so if you use it for longer, you can lose more weight.
The results were decent, although nothing extraordinary.  My favorite part about this tea was how energized I felt right after drinking it.
I didn't notice any long-term weight loss effects, but like I said, you'd need to use the teatox longer in order to see long-term results.
I also noticed I was a little less bloated, and craved healthy foods while using this tea (that's always a plus!).
So no, this isn't a miracle tea, but I think it does a great job eliminating bloating and helping in your weight loss journey.
Side Effects
Like I mentioned earlier in my review, I had great energy after drinking this tea. However, after about 2 hours, I crashed.  I found myself really tied after my energy high wore off.
Price/Value
Cutea Slimming Detox Tea Review is $24.95 for a 14-day supply.  That's $1.78 per day, which is pretty average, maybe a little less.
Guarantee
No, Cutea doesn't have a money back guarantee.
You can return your product if it's unopened, or if there's 80% of the product left in the bag.  That's a very strange return policy and I've never heard of one like that.
Where To Buy
To buy Cutea Slimming Detox Tea, Click Here.
Cutea Slimming Detox Tea:  Summary
| Factor | Cutea Slimming Detox Tea |
| --- | --- |
| Overall Rating | |
| Ease of Use | Very easy to use, use in morning. |
| Taste | Tastes okay, but not great.  Tastes like mint green tea. |
| Notable Ingredients | Organic Green Tea, Organic Tulsi, Organic Spearmint |
| Results | I saw okay results.  I was less bloated and lost 1 pound. |
| Side Effects | I crashed about 2 hours after using this teatox. |
| Price/Value | It's $1.78 per day, which is a little less than average. |
| Guarantee | No guarantee |
| Where To Buy | Click Here |
Category: Detox Tea Reviews