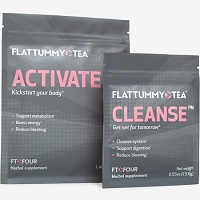 Product Name:  Flat Tummy Tea
Overall Rating:  

Morning or Night:  Both
Price:  $36.00
Teabags or Loose Leaf:  Loose Leaf
Servings Included:  14
Cost Per Serving:  $2.57
Laxative Ingredient(s):  Senna Leaf, Dandelion Leaf, Rhubarb Root, Cassia
Moneyback Guarantee:  No
Where To Buy:  Click Here
Ingredients:  Activate Tea – Peppermint (leaf), Lemon Balm (leaf), Liquorice (root), Dandelion (leaf and root), Cleavers (leaf), Fennel (seed), Green Tea (leaf), Caraway (seed), Cardamom (pods).
Cleanse Tea – Senna (leaf), Peppermint (leaf), Cassia Chamaecrista (pods), Liquorice (root), Caraway (seed), Dandelion (root), Rhubarb (root)
Overall Opinion:
Unfortunately, Flat Tummy Tea fell flat in most areas, so I gave it 1 out of 5 stars.
I was SO excited to try this one, especially after seeing all the hype around it on social media.  But it just didn't live up to my expectations, and I'm starting to believe all the positive reviews I've seen are fake.
The thing I really don't like about Flat Tummy Tea is the amount of laxative ingredients it contains.  It contains 4 between both the morning and night tea!  That's the most I've seen in a teatox.  So needless to say, I had bathroom issues while using this tea and it wasn't a pleasant experience.  On top of that, I didn't notice any weight loss or less bloating.
This tea tastes like peppermint, which is good.  But after drinking it both morning and night for two weeks, I found myself craving some variety.
Both the Activate morning tea and the Cleanse night tea are loose leaf, so they aren't as easy to use as teas that come in teabags.
I also had some pretty extreme and scary side effects while using this tea (I wanted to eat everything in the house!), so unfortunately I wouldn't recommend Flat Tummy Tea.
Detailed Opinion:
Ease of Use
Flat Tummy Tea isn't the easiest out there to use.
Both the morning and the nighttime tea come as loose leaf tea, so right off the bat they aren't as easy to use as teabags. Then you have to measure out 1 tsp into your tea infuser (if you don't have one I guess you're outta luck).
For the Activate Morning tea, you infuse for 5-7 minutes in 8 ounces of water.   The Activate tea has a mild laxative in it, Dandelion Leaf.  So I'd pay attention to the directions, and not steep longer than 7 minutes.
For the nighttime Cleanse Tea, the directions state to infuse for 3-5 minutes, and drink it every other night for the first week.  For the second week you cut back even more, and only use it every third night.  That right there just shows you that there are some potent ingredients in it.
With both teas, I found a lot of the tea escaped my infuser and was floating in my drink.  I guess the loose-leaf tea mixture was too fine and not chunky enough.  It wasn't very appetizing drinking tea with chunks floating around.
Taste
Both the Activate and Cleanse teas taste very similar as they contain some of the same ingredients.  If you like the taste of mint tea, you should like these.  They both taste very strongly of peppermint, which I like.  They taste very refreshing.
Although the teas taste good, I found myself wishing that one of them had a different flavor.  Drinking mint tea everyday for two weeks (sometimes twice a day) got a little monotonous and I found myself wishing for a little flavor change up.
Ingredient Analysis
Between the morning and the nighttime tea, Flat Tummy Tea contains 4 laxatives!  That's the most I've ever seen in a teatox, and to be honest, it's a little scary.
The Activate morning blend contains Dandelion Leaf and Root, which is a gentle laxative (but laxative nonetheless).  It also contains Peppermint Leaf (where it gets its taste from), and Green Tea (for your caffeine boost).
The Cleanse nighttime tea contains Senna Leaf, which is a very strong FDA approved laxative.  In addition to that harsh laxative, it also contains Cassia Chamaecrista, Dandelion Root, and Rhubarb Root which are all less potent laxatives.  So let's just say, if you need to get things moving, this will definitely do the job.  However, if you don't need to get things moving, this blend can be very detrimental to your health AND weight loss journey.  Having that many laxatives in a tea is so unhealthy and will quickly deplete your body of all nutrients it needs to help you lose weight.
Results
I can't say I saw any long-term weight loss with this teatox.  I initially lost about 2 pounds of water weight (from using the bathroom often), but those pounds came right back after I hydrated and stopped the teatox.
This one is such a harsh cleanse, that it somewhat shocks your digestive tract, causing it to expel anything and everything inside of you.  Yes, that may cause you to lose a pound or two, but no it's not healthy and the weight will come right back once you stop using the tea.
So I really don't think this tea is a good option for long-term weight loss and bloating.
Side Effects
Oh where to start with the side effects…
First, as I've been mentioning throughout this review, it will make you run to the bathroom.  And not once a day, you'll be running multiple times per day.  This led to loose stools (stop if you get this side effect!), and dehydration.
I also had stomach cramping and a slight headache after I'd drink Flat Tummy Tea.
Another unwelcome side effect I had was that I was starving all day long!  This was most likely due to the fact I had nothing in my stomach from using the bathroom so often.
Price/Value
Flat Tummy Tea is $36 for a 2 week supply.  That's $2.57 per day, and definitely more expensive than average.
Guarantee
No money back guarantee…what gives?!
Where To Buy
To buy Flat Tummy Tea, Click Here.
Flat Tummy Tea:  Summary
| Factor | Flat Tummy Tea |
| --- | --- |
| Overall Rating | |
| Ease of Use | Not as easy as most, it's loose leaf and messy. |
| Taste | Tastes good, like peppermint.  But the taste became monotonous. |
| Notable Ingredients | Senna Leaf, Dandelion Leaf, Peppermint Leaf, Rhubarb Root, Cassie Chamaecrista |
| Results | I lost 2 lbs of water weight, but immediately gained it back after stopping. |
| Side Effects | Running to bathroom, loose stools, dehydrating, stomach cramping, hunger |
| Price/Value | It's $2.57 per day, that's super expensive. |
| Guarantee | No guarantee |
| Where To Buy | Click Here |
Category: Detox Tea Reviews