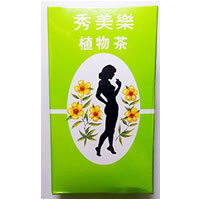 Product Name:  German Herb Slimming Tea
Overall Rating:  

Morning or Night:  Morning and Night
Price:  $8.50
Teabags or Loose Leaf:  Teabags
Servings Included:  25
Cost Per Serving:  $0.34
Laxative Ingredient(s):  None
Moneyback Guarantee:  Yes, through Amazon
Where To Buy:  Click Here
Ingredients:  Hawthorn, Chamomile, Morning Glory, Sterling Bean, Radish Leaf, Red Bean, and Camellia Seed
Overall Opinion:
I tried this detox tea out for a few weeks and I really didn't care for it.
For starters, all the ingredients, directions, etc. are in a different language, which is confusing.
The tea is very difficult to use compared to most teas.  You need to steep it in cold water, NOT hot.  And you need to let it steep for 30 minutes.  I found this to be very inconvenient, especially because you need to drink two glasses per day.
The tea tastes like cold asparagus, which isn't a good taste at all.
Also, I didn't notice any results while using this tea.  It ended up giving me stomach pain and bloating.
So, I ended up giving German Herb Slimming Tea 1 out of 5 stars.
Detailed Opinion:
Ease of Use
This tea is a real pain to use.  First of all, most of the directions are in another language (I think Chinese).  The directions that are in English are broken English so they don't really make sense.  But after googling a bit, it appears you are NOT supposed to use hot or boiling water to brew this tea.  You need to use cold water to brew it, and you need to let it steep for 30 minutes.
I found using cold water to brew the tea was actually more inconvenient, because I had to put some water in the fridge for a while before it was cold enough to brew the tea. So for those of you who like your tea hot and not iced, I don't think this is the tea for you.
On top of that, you need to let it steep for 30 minutes!  That's the longest I've ever seen.
The directions say to drink one glass twice a day, morning and night.  So you need to go through the tedious brewing process twice per day.  The tea comes in teabags, so at least that's nice.
Needless to say, this tea was a pain to use.
Taste
German Herb Slimming Tea tastes really bad.  It tastes like some kind of cold vegetable soup (maybe asparagus?).
I really didn't enjoy drinking it, and I don't think many of you out there will either.
Ingredient Analysis
Now, the ingredients on the box are listed in a foreign language so I couldn't read them.  They also don't list them on Amazon (where I purchased the tea), so it was really hard to find out what exactly is in this detox tea.  After doing a little research, I found a website that listed the ingredients, although I don't know how accurate it is.  So take these ingredients with a grain of salt.  And let me say, I don't really feel comfortable drinking this tea without knowing what I'm putting into my body.
The first ingredient in this tea is Hawthorn.  Hawthorn is said to be good for lowering anxiety levels as well as your heart health.  I think this is a really good ingredient.
The next ingredient in German Herb Slimming Tea is Chamomile.  This is a very popular tea that many people drink daily.  Chamomile tea has been shown to boost your immune system, so this is great to drink in the winter months when all the nasty colds and flus are going around.  This tea is also very calming, and many people like to drink it before bed due to its relaxing effects.
Sterling Bean is an ingredient I don't often see in detox teas. I found that this ingredient can help suppress your appetite by helping absorption of starches and simple sugars.
The last notable ingredient in this detox tea is Radish Leaf.  Radish leaf is said to help your digestive tract, and is also a diuretic.  So this ingredient may make you urinate often.  It also may act as a mild laxative.
Results
This detox tea left a lot to be desired in the results department.
After using it for a few weeks (they don't even tell you how long to use it), I noticed no results in the weight loss department, and I actually felt worse than before I used this tea.
This tea hurt my stomach and cause me to cramp a little.  While I didn't have any strong laxative effects, this tea had mild laxative effects and also hurt my stomach.
This caused me to feel extremely bloated and grumpy.  To me, this tea seems rather strong and potent, so I think that's why it ended up irritating my stomach (and I usually have a tough stomach).
Also, the box says, "This Herb is good for the overweighted person who do not want to control food consumption", that's verbatim.  I really don't like how they don't promote healthy eating alongside this tea.  They are basically saying this is a miracle tea, which it definitely isn't.
So overall, I didn't like the effects of this tea.
Side Effects
Since this tea has chamomile in it, I'd feel pretty sleepy after drinking it.  Which was fine before bed, but in the morning, it kind of put a damper on my day.
It also caused bloating and stomach pain.
Price/Value
German Herb Slimming Tea is $8.50 for a 25 day supply.  That's only $0.34 per day, which is very cheap. Although, I still wouldn't purchase again.
Guarantee
Yes, if you purchase through Amazon, they have the typical Amazon guarantee (I think it's 30 days).
Where To Buy
To buy German Herb Slimming Tea, Click Here.
German Herb Slimming Tea:  Summary
| Factor | German Herb Slimming Tea |
| --- | --- |
| Overall Rating | |
| Ease of Use | Difficult to use, you need to use cold water and steep a long time |
| Taste | Tastes like asparagus |
| Notable Ingredients | Hawthorn, Radish Leaf, Sterling Bean, Chamomile |
| Results | I didn't see any positive results. |
| Side Effects | It made my sleepy, hurt my stomach, and caused bloating. |
| Price/Value | It's very cheap at $0.34 per day. |
| Guarantee | Yes, through Amazon |
| Where To Buy | Click Here |
Category: Detox Tea Reviews