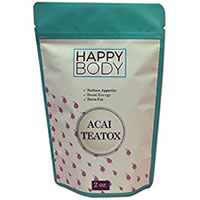 Product Name:  Happy Body Acai Teatox
Overall Rating:  

Morning or Night:  Morning
Price:  $9.99
Teabags or Loose Leaf:  Loose Leaf
Servings Included:  28
Cost Per Serving:  $0.36
Laxative Ingredient(s):  None
Moneyback Guarantee:  No
Where To Buy:  Click Here
Ingredients:  Rooibos leaf, Sencha green tea, Ginger root, Oolong wu li leaf, Acia berry powder, Goji berry, Hibiscus flower, Jasmine tea leaf, Pomegranate leaf, Guarani seed, Stevia leaf, Lemon grass and Apple
Overall Opinion:
I gave Happy Body Acai Teatox 4 out of 5 stars, so I was really happy with it.
I love the ingredients in this tea; they're healthy and there's no laxative.  Rooibos Leaf is great for promoting a healthy digestive system, in turn leading to less bloating and a healthy body.  Sencha Green tea provides a great boost in energy while assisting your body in burning fat.
The taste of this Acai Teatox is also great; it's very light and a little fruity.  The taste isn't overwhelming at all, so even those of you who don't like the taste of tea, will probably like it.
While I was using this teatox, I felt great.  I was less boated, and just felt healthy all around.  I had a lot of energy, which helped me complete my daily workouts with more strength than I normally have.
You also can't beat the price of this tea, as it's only $9.99 for a 28-day supply!
The only two things I didn't like about this tea are that it's a bit harder to use because it's loose leaf, and they don't have a money back guarantee.  I really can't stand it when companies don't stand behind their products.
Overall though, I think this is a great teatox, and works well without the harsh effects of laxatives.
Detailed Opinion:
Ease of Use
Happy Body Acai Teatox comes in a bag full of loose leaf tea.  In most cases, I prefer a teabag, just because they're easier to use.  But this tea was pretty easy to use despite the fact that it's loose leaf.
They provide a strawberry shaped tea infuser, which is super cute and convenient.  It makes it easy for anyone to use, especially if you don't own a tea infuser.
The one thing I didn't like is that some pieces of the tea found their way out of the infuser and were floating around in my tea.
The directions say to put 1 teaspoon of tea in the infuser and leave it to infuse in boiling water for 3-5 minutes.
Since this one doesn't have a laxative ingredient, you don't need to worry about over steeping it. If you prefer a stronger taste, then go for it!
Taste
Now, this one is called an "Acai Teatox", but don't let the name fool you.  I didn't really taste any acai flavoring in my tea, but it still tasted really yummy.
It has a light fruity flavor with a hint of Oolong and jasmine.  I loved the taste of this one and could easily drink it daily.  It's a pretty mild flavor, so I didn't use any lemon or honey in it.
Ingredient Analysis
I love the ingredient lineup in this teatox.  And I especially love the fact that it doesn't contain a harsh laxative like many teatoxes out there.
Happy Body Acai Teatox contains Rooibos leaf, which is said to help with digestive issues and stomach cramps, although, not by causing a laxative effect.  It helps smooth out the muscles in your gut, and creates a calming effect.  Rooibos is also rich in zinc and alpha hydroxyl, which are both great for your immune system and health in general.
This tea also includes Sencha Green Tea Leaf.  Sencha Green tea contains caffeine, so it's great for a little pick me up or boost when you need it.  It also can boost your metabolic rate, which will help you burn fat.
Some other ingredients included in this blend are Oolong Wu Yi Lead, Jasmine Tea Leaf, and Hibiscus Flower, which are all great ingredients for your body.
I did notice some of Happy Body's other teatoxes do include Senna Leaf (which is a strong laxative), so make sure to avoid those ones and stick to this Acai Teatox.
Results
This teatox is great for long-term weight loss…and keeping the weight off.
You won't see the immediate loss of water weight like you will with the teas that contains laxatives (this is a good thing).  But with consistent use of this tea, you will slowly start to see the pounds shed off (with a healthy diet and exercise).
I used this tea is place of my morning coffee, and also occasionally in place of a soft drink at lunch.  I highly recommend doing this, because this will cut out sugar from other drinks, while replacing it with a tea that promotes fat burning.
So, after consistently using this tea for a few weeks, I can say it helped tremendously with bloating, and I also felt all around healthier.
Side Effects
I didn't notice any side effects while using this tea.  If you're body isn't used to consuming caffeine, you may get a headache the first day or two, however.
Price/Value
Happy Body Acai Teatox is only $10 for a 28-day supply, that's SO cheap.
Guarantee
There's no money back guarantee for this teatox, which is a big red flag for me.
Where To Buy
To buy Happy Body Acai Teatox, Click Here.
Happy Body Acai Teatox:  Summary
| Factor | Happy Body Acai Teatox |
| --- | --- |
| Overall Rating | |
| Ease of Use | Pretty easy to use, they provide a tea infuser. |
| Taste | Tastes good, very mild and a little fruity. |
| Notable Ingredients | Rooibos Leaf, Sencha Green Tea, Oolong Wu Yi Leaf, Jasmine Tea Leaf |
| Results | I felt less bloated and very healthy after a few weeks of use. |
| Side Effects | No side effects |
| Price/Value | It's only $0.36 per serving, that's extremely cheap. |
| Guarantee | No guarantee |
| Where To Buy | Click Here |
Category: Detox Tea Reviews