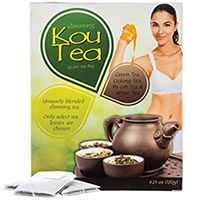 Product Name:  Kou Tea
Overall Rating:  

Morning or Night:  Morning and Afternoon
Price:  $34.95, plus $10 for shipping
Teabags or Loose Leaf:  Loose Leaf
Servings Included:  30
Cost Per Serving:  $1.53 including shipping
Laxative Ingredient(s):  None
Moneyback Guarantee:  No
Where To Buy:  Click Here
Ingredients:  Green Tea, Oolong Tea, Pu-Erh Tea, White Tea
Overall Opinion:
I gave Kou Tea 2.5 out of 5 stars after testing out their 30 day supply.
There are some things I like about this tea, and some things I don't.
For starters, I love the ingredients in this tea.  It doesn't contain any laxatives, just 4 different types of tea.  I love the purity and simplicity of it.
It was also pretty easy to use, as you only have to steep each bag for one minute!
The taste is okay, not great, but not nasty. It tastes like plain green tea (which I happen to like).
Now, I really don't like the promises they make on their website.  They claim you'll lose weight without any changes in your diet or exercise, solely by drinking this tea.  Which is SO not true.  This tea isn't going to magically make the weight start falling off.  But it's great to use in addition to working out and eating healthy.
My results were pretty good; I felt very energized while using this teatox, which is a big plus for me.  I also felt less bloated and lost about 2 pounds.  But keep in mind, I work out hard at the gym and try to keep my diet clean (but let's face it, weekends are for Chick Fil A and In N Out :).
I also got some headaches while drinking this tea (because there's a LOT of caffeine in it), which sucked.  And I crashed a few hours after drinking each cup.
In conclusion, this is a pretty average detox tea in my opinion.
Detailed Opinion:
Ease of Use
Kou Tea comes in pre-packaged tea bags that are easy to steep.
I love how easy these are to make, you only need to brew them for 1 minute!   The directions say over brewing them can damage the tea and its effects, so be careful not to leave in longer than one minute.
They instruct you to use hot, but not boiling water, which is a bit of a pain as you need to wait for boiling water to cool off a little before using.
You need to drink this tea twice per day, although it doesn't tell you when to drink them.  I'd recommend morning and afternoon (or before a workout), because Kou Tea has a lot of caffeine in it.
Taste
I found the taste of Kou Tea to be decent.  Not the best, not the worst.
It tastes like your average green tea, with hints of Oolong and Pu-Erh.  So to put it simply, this one has a very strong TEA taste (if you know what I mean).  It doesn't have any additives to help flavor it, just the tea leaves.
I found it to be a little bit strong tasting (even after brewing only one minute), but I still enjoyed the taste.  This one tastes even better with a little honey and lemon!
It's an easy one to drink twice a day, as long as you like the taste of green tea!
Ingredient Analysis
The ingredient lineup in Kou Tea is pretty simple.  There are only 4 ingredients and they're all different types of tea. They are: Green Tea, Oolong Tea, Pu-Erh Tea, and White Tea.
Green Tea has been shown to increase your energy, which in turn helps you oxidize fat at a faster rate than you normally would.  This fat oxidizing process then helps you lose weight.
Oolong Tea is a great ingredient because it's packed with vitamins, and can also be helpful in losing weight.  It's a great tea to drink for your immune system as well.
Pu-Erh is said to be great for your heart.  It can help lower cholesterol levels and increase blood flow.
White Tea is another ingredient I love.  It's full of antioxidants and has been known to keep off fat cells once you burn them.
All 4 of these teas have caffeine in them, so be ready for an extra strong energy boost while drinking this tea!
The great thing about the ingredients in this tea is there are no laxatives!  That's always a plus in my book 🙂
Results
First thing I noticed while using this tea was the explosion of energy I got after drinking it.  This tea is definitely packed with caffeine.  Because of that, I found this tea great to drink before working out.  It gave me a great boost and pushed me to work out my hardest.
Now, after using it a month, I noticed I lost about 2 pounds.  Was this solely from using the Kou Tea? No.   But I think the tea did help a little by giving me energy and helping to reduce bloat.
I don't think this is a miracle weight loss tea, none of them are.  But this one was a little above average in how it made me feel.
I love how much energy I had, and the fact that I was only putting good ingredients into my body, instead of losing weight the unhealthy way (through laxative teas).
One thing I REALLY don't like about this tea is how on their website they say you can lose weight just by drinking this tea. They say you don't need to work out or eat healthy.  Which is total BS, we all know to lose weight you have to work for it.  This tea isn't magic.  So in that regard, Kou Tea seemed to overpromise and under-deliver.
Side Effects
The first few days of using Kou Tea I got a headache after drinking it.  I think it's because the caffeine content is so high and my body wasn't used to it.
I also crashed come late afternoon after the caffeine high wore off.
Price/Value
After you factor in shipping, Kou Tea is $1.53 per day, which isn't bad at all, it's pretty average.
Guarantee
No, they don't have a guarantee.
It's kind of misleading because on their website they say purchasing is no risk and they have a guarantee.  But upon looking further, I found no guarantee.  The only guarantee I found on their website was that they wouldn't share your information…and that's expected.
I was very disappointed to see they don't have a guarantee and that they were trying to mislead people into thinking they do.
Where To Buy
To buy Kou Tea, Click Here.
Kou Tea:  Summary
| Factor | Kou Tea |
| --- | --- |
| Overall Rating | |
| Ease of Use | Very easy to use… drink twice daily in morning and afternoon. |
| Taste | Tastes decent, but not great.  Tastes like plain green tea. |
| Notable Ingredients | Green Tea, Oolong Tea, Pu-Erh Tea, and White Tea |
| Results | I was a bit less bloated and lost 2 lbs. |
| Side Effects | I had headaches and got very tired a few hours after drinking. |
| Price/Value | It's $1.53 per day which is a pretty average price. |
| Guarantee | No guarantee |
| Where To Buy | Click Here |
Category: Detox Tea Reviews