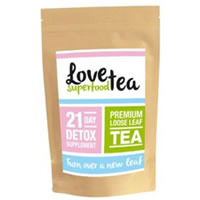 Product Name:  Love Superfood Tea
Overall Rating:  

Morning or Night:  Morning and Afternoon
Price:  $33.64
Teabags or Loose Leaf:  Loose Leaf
Servings Included:  42
Cost Per Serving:  $0.80
Laxative Ingredient(s):  None
Moneyback Guarantee:  No
Where To Buy:  Click Here
Ingredients:  Black Tea, Green Tea, Natural Flavoring, Mate Green, Nettle Leaves, Manna Bits, Sunflower Blossoms, Redcurrants, Vitamin C, Guarana Seeds, Blackthorn Blossoms
Overall Opinion:
I'm really happy with Love Superfood Tea after using it for 3 weeks, so I gave it 4.5 out of 5 stars.
In my opinion, this is one of the better detox teas out there.
I absolutely love that it doesn't contain any harsh or scary laxatives (cough cough, Senna Leaves), so I didn't need to worry about using the restroom multiple times a day.
The ingredients in this tea are great; it even includes Vitamin C!  I'm convinced this tea helped me fend off an impending cold.  It also contains Black Tea, Green Tea and Mate Green, which are all good for your digestive tract, metabolism, and fat oxidation.
Now, the taste of this tea is amazing.  It tastes like sweet berries; I think cranberry is the main one I tasted.  I loveeee the taste!
The results are also very good; I lost 3 pounds while using it!  And if you continue to use it in place of sugary drinks, you're very likely to keep losing more.
I was a bit jittery after drinking it the first few days, and I also got some headaches after I finished the teatox.  So those are some small drawbacks.
One big drawback for me is they don't have a money back guarantee; they don't even have a return policy! That's so lame.
But overall, I really enjoyed this tea and its results so I gave it 4.5 out of 5 stars.
Detailed Opinion:
Ease of Use
Love Superfood Tea is a loose-leaf tea that comes with a little heart shaped infuser.  Although loose leafs aren't as easy to use as teabags, the infuser really helped make this one more convenient.
The directions say to measure 1tsp into the infuser and infuse in boiling water for 3 minutes.  This tea doesn't contain any laxatives, so you don't need to worry even if you over steep it a little bit.
You're directed to use 2 cups daily, one in the morning, and one around lunchtime/afternoon.
Once I infused my tea, I found little fragments escaped the infuser, but at least there weren't any big chunks floating around in my cup.
Taste
This detox tea tastes delicious!
When I opened the bag, I was overwhelmed with a sweet, berry scent.  That's exactly how the tea tasted as well.  It tasted like cranberry to me; I was very pleased with how good this one tastes.
Seeing as you need to drink 2 cups per day, I'm glad this one tasted so yummy.  I looked forward to drinking it!
Ingredient Analysis
This teatox contains some really good ingredients.
First off, it contains Black Tea, which is great for digestive issues, lowering cholesterol, and also contains about half the amount of caffeine that a cup of coffee does.
Also included in this tea is Green Tea.  Green tea is great for your metabolism and oxidizing fat.  Mate Green is another ingredient in this tea, so you'll definitely be getting your needed caffeine boost!
The thing I love most is that this detox tea doesn't contain a laxative, and that the ingredients included in here are actually good for your body and health in general.  This tea even included Vitamin C in it!
Results
I experienced great results while using this tea.
Let me start off by saying, I started to feel like I was getting a cold while I was using this tea, and I'm happy to say it never progressed into one.  I'm convinced it was the tea and its good ingredients that helped me fight it off.
Besides strengthening my immune system, this tea also helped me out in the weight loss department.
After about a week of using it, I really started to notice my belly was less bloated, and I really felt great. After the full 21 days, I lost about 3 lbs, and I know if I continued to use this tea on a daily basis that I could lose more.
This is a great detox tea to use long term because it doesn't contain any scary laxatives that a lot of detox teas out there do.
So if you see good results after 21 days, I'd definitely recommend continuing on with this one!
Side Effects
This one packs a real good punch of energy.  How can it not when the first 3 ingredients all contain caffeine?  I liked the amount of energy it gave me, but the first few days I was a bit jittery.
Also, after I was finished with the 21-day pack, I started getting headaches, probably from caffeine withdrawal.
Price/Value
Love Superfood Tea is $33.64 for a 21-day supply.  That's $.80 per serving, which is pretty average at $1.60 per day (2 servings).
Guarantee
No, and I couldn't even find a return policy!  I'm really disappointed in this.
Where To Buy
To buy Love Superfood Tea, Click Here.
Love Superfood Tea:  Summary
| Factor | Love Superfood Tea |
| --- | --- |
| Overall Rating | |
| Ease of Use | Moderately easy to use, it's nice they include an infuser. |
| Taste | Tastes SO good, like cranberry. |
| Notable Ingredients | Black Tea, Green Tea, Mate Green |
| Results | I saw great results.  It helped me lose weight and even fight off a cold. |
| Side Effects | I was jittery the first few days, and got headaches after discontinuing the teatox. |
| Price/Value | It's $33.64 for 21 days, that's a little bit cheaper than average. |
| Guarantee | No guarantee |
| Where To Buy | Click Here |
Category: Detox Tea Reviews