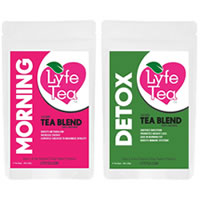 Product Name:  Lyfe Tea 14 Day Teatox
Overall Rating:  

Morning or Night:  Morning and Evening
Price:  $34.95
Teabags or Loose Leaf:  Teabags
Servings Included:  14
Cost Per Serving:  $2.50
Laxative Ingredient(s):  Senna Leaf, Senna Pods, Dandelion Leaf
Moneyback Guarantee:  No
Where To Buy:  Click Here
Ingredients:  Morning Lyfe Tea: Propietary Blend (Green Tea, Yerba Mate, Guarana, Lemon Peel, Ginger Root, Moringa)
Detox Lyfe Tea: Propietary Blend (Senna Leaf, Senna Pods, Dandelion Leaf, Chamomile, Nettle Leaf)
Overall Opinion:
I really didn't like Lyfe Tea after using it for 2 weeks.
The only thing I like about this tea is that it's easy to use.  Other than that, it's all negative in my opinion.
For starters, I gained weight while using it.  I was running to the bathroom so often that I had nothing in my stomach.  This caused me to be constantly hungry, and eat everything!
I also don't like that this tea contains one of the harshest laxative ingredients, Senna Leaf.  I try to stay away from this ingredient whenever I can, just because it has such a strong effect on my body and digestive tract.  It also contains Dandelion leaf, which is another laxative…double whammy.
Both the Morning and Detox Tea taste SO bad.  I had to plug my nose and chug them fast to get them down.  One of them tasted like dirty pool water and was one of the worse tasting teas I've tried.
To top it off, they don't have a money back guarantee.
So overall, I was really let down by Lyfe Tea and wouldn't spend my money on it again.
Detailed Opinion:
Ease of Use
Both the Lyfe Teas come in teabags, which make them very convenient.  With this detox, you get two teas, a Morning Blend and a Detox Blend.  The Detox one doesn't say when to drink it, but I'm assuming nighttime.
Both of them you steep in 8 ounces of boiling water.  The Morning Blend you steep anywhere from 2-10 minutes.  It doesn't have a laxative so the longer brewing time is okay.  I brewed mine for about 5 minutes each time.
Now, the Detox Blend you only brew for 1 minute.  It says you can gradually increase the steeping time to increase the effects of the detox.  However, I wouldn't recommend brewing it for longer than one minute.  One minute was plenty long and I was sure feeling the effects of the "detox"!
Taste
To be honest, both of these teas taste so bad.
The Morning Blend is just bland and doesn't have much flavor at all.  It tastes like a cheap tea with no overpowering flavors.
The Detox Blend tastes even worse; it tastes like dirty pool water.  I couldn't stand drinking this one; it made me sick just tasting it!
I had to work hard to choke both these down daily.  And to be honest, some days I couldn't even finish my whole cup.
Ingredient Analysis
As for the morning tea blend, it has mostly good ingredients.  It contains Green Tea and Yerba Mate, both which are packed with caffeine and help your body oxidize fat at a higher rate than normal.
It also contains Gurana, which is an ingredient I'm not too fond of.  It also contains a lot of caffeine, but there have been no thorough studies that show it helps with weight loss.  So basically, it's just adding a burst of energy. (I think this one would have enough caffeine without it.)
Now, the Detox Tea has ingredients that I'm not a fan of at all.  It contains Senna Leaf and Senna Pods.  Senna is my least favorite ingredient out there.  It's a very strong laxative that's included in many detox teas.  It has such a strong laxative effect that some (including myself) consider it to be unhealthy.
The Detox Tea Blend also contains Dandelion Leaf, which is another laxative, but its effects are gentler than Senna.
Chamomile is also included in the Detox Tea, which is a good ingredient for getting a good night's rest (which is always beneficial when you're trying to detox or lose weight!).
Results
As far as weight loss or detoxing, I saw zero results.
The only thing I got from this detox tea was a bellyache and frequent bathroom visits.
I dreaded drinking my two cups per day because it made me sick to my stomach and tasted so bad.
The Senna Leaf in this tea made in more of a laxative tea than a detox tea.  I don't think constantly going to the bathroom is a healthy way to lose weight.  It just winds up dehydrating you, and you'll gain all the weight back after you stop the tea or eat a meal.
I actually think this tea set me back in terms of weight loss.  I was using the bathroom so often that I was constantly hungry and would eat everything in sight. So after this 2 week detox, I actually ended up gaining a few pounds.
So needless to say, I wasn't impressed with the results of Lyfe Tea.
Side Effects
I was going to the bathroom excessively.  I was eating all the time.
I felt sick to my stomach after each cup.  I could go on and on, but those are the main side effects I had!
Price/Value
Lyfe Tea is $35 for a 14 day supply.  That works out to $2.50 per day, which is more than your average teatox, and definitely not worth it in my opinion.
Guarantee
No, I was let down that they don't have any guarantee.
Where To Buy
To buy Lyfe Tea, Click Here.
Lyfe Tea:  Summary
| Factor | Lyfe Tea |
| --- | --- |
| Overall Rating | |
| Ease of Use | They come in teabags and are very easy to use. |
| Taste | Both the Morning and Detox teas taste horrible. |
| Notable Ingredients | Green Tea, Guarana, Senna Leaf, Dandelion Leaf, Chamomile |
| Results | I saw no results; I actually gained weight. |
| Side Effects | Diarrhea, Bellyache, Hungry |
| Price/Value | It's $2.50 per day which is more than your average detox tea. |
| Guarantee | No guarantee |
| Where To Buy | Click Here |
Category: Detox Tea Reviews