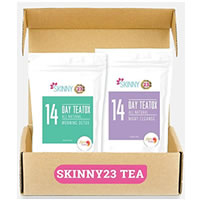 Product Name:  Skinny 23 14 Day Teatox
Overall Rating:  

Morning or Night:  Morning and Night
Price:  $55.00
Teabags or Loose Leaf:  Teabags
Servings Included:  14
Cost Per Serving:  $3.93
Laxative Ingredient(s):  Senna, Cassia Seeds
Moneyback Guarantee:  No
Where To Buy:  Click Here
Ingredients:  Morning Teatox: Organic Pu-erh Tea, Organic Green Tea Extract, Ginseng (Panax), Ginger Pieces, Garcia Cambogia, Pu-erh Tea, Stevia, Natural Peach Flavors.
Night Cleanse: Senna, Cassia Seeds, Date, Licorice Root, Cinnamon Bark, Chrysanthemum Flower, Honeysuckle Flower, Apple Pieces, Stevia Leaf, Natural Apple & Cinnamon Flavors.
Overall Opinion:
Overall, Skinny 23 Teatox has its pros and its cons, so I gave it 2.5 out of 5 stars.  To me, this is a very average detox tea.
I really like the way both the Morning and Night Teas taste.  They're both sweet and refreshing.  I didn't get sick of drinking either of them for 2 weeks straight.
They both come in teabags, which is great.  The morning tea is easy to use, however, the night tea you need to drink on an empty stomach, which makes it more difficult.
This slimming tea also contains 2 very harsh laxatives, which had me running to the bathroom.  So I wasn't a fan of that.
I also didn't like the price (so high!), and that they don't offer a guarantee.
So overall, Skinny 23 Teatox is pretty average.
Detailed Opinion:
Ease of Use
Both the Morning Detox and the Night Cleanse tea are in the form of tea bags.  You're directed to drink both the morning and night teas once per day.
The directions for the Morning Detox say to drink it in the morning when you wake up; you just steep one bag for 3-5 minutes.
The Night Cleanse, you're supposed to drink 3-4 hours after dinner, on an empty stomach.  That makes it a little harder to use. Sometimes I like to snack before bed, sometimes I ate dinner right before bed, etc.  You also steep the Night Cleanse for 3-5 minutes in boiling water.
For the Night Cleanse, I honestly think steeping it for 3-5 minutes is too long.  It contains both Senna and Cassia Seeds, both, which are laxatives. So leaving the tea bag in there for a full 5 minutes is going to give you a very strong laxative tea.
Overall, the morning one is super easy to use, the night one, not so much.
Taste
Both of the Skinny 23 teas taste pretty good.
The morning one has a sweet peach taste.  The peach taste is very light, and is sweeter than most teas I've tried.
The night tea was actually my favorite of the two, which surprised me because usually teas that contain Senna taste like crap.  Skinny 23 Night Cleanse has a sweet taste as well, but it tastes more like apple cinnamon.
I really enjoyed drinking both of these teas, and easily did so every day.
Ingredient Analysis
The Morning Detox tea contains Organic Pu-erh Tea, which is said to help speed up your digestion speed, without causing a strong laxative effect.  It also contains Green Tea, which is great for oxidizing fat. Garcinia Cambogia is also included in the morning blend.  This ingredient is said to help with weight loss.
The Night Cleanse contains that harsher ingredients.  It contains 2 very strong laxatives… Senna and Cassia Seeds.  Both these ingredients come from the same plant, and will have you running to the bathroom all day. The night tea also contains Licorice Root and Honeysuckle Flower.
Both teas contain Stevia as a sweetener.
Results
My results from this teatox were very average.
I felt really good after drinking my daily cup of the morning blend.  I had energy and felt ready for the day. However, the nighttime tea had the opposite effect.  I felt like I was constantly running to the bathroom after drinking this one.  The laxatives in it are just so harsh.
I didn't notice any long term weight loss effects.  I lost like 1-2 pounds the first week, but I gained it back after stopping the tea.  The weight loss was solely from using the bathroom so much.
I did feel less bloated while using Skinny 23 Teatox, but again, this went away after stopping the tea.  This also isn't a teatox you can use long term because some of the ingredients can be harmful if used too long.
Side Effects
I was using the restroom SO often.  I also had a small headache some nights after drinking the Night tea.
The Morning tea gave me great energy.
Price/Value
Skinny 23 Teatox is SO expensive.  At almost $4.00 per serving, it's probably the most expensive detox tea I've tried.  I wouldn't pay this price again because I definitely think there are better detox teas out there.
Guarantee
No, they don't have a guarantee, or even a return policy.  All their sales are final, which tells me they aren't very confident in their products.
Where To Buy
To buy Skinny 23 Teatox, Click Here.
Skinny 23 Teatox:  Summary
| Factor | Skinny 23 Teatox |
| --- | --- |
| Overall Rating | |
| Ease of Use | Morning tea is easy, but the Night tea is more inconvenient. |
| Taste | Both of them taste really good! |
| Notable Ingredients | Organic Pu-erh, Green Tea, Senna, Cassia Seeds, Honeysuckle Flower |
| Results | I saw average results.  I lost 2 lbs, but gained it all back.  I was less bloated. |
| Side Effects | I was using the restroom a lot, small headaches, lots of energy in the morning. |
| Price/Value | It's $3.93 per day, which is SO expensive. |
| Guarantee | No guarantee |
| Where To Buy | Click Here |
Category: Detox Tea Reviews