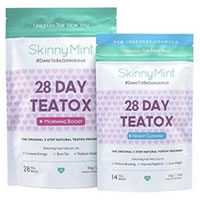 Product Name:  Skinny Mint 28 Day Teatox
Overall Rating:  

Morning or Night:  Both
Price:  $54.90
Teabags or Loose Leaf:  Teabags
Servings Included:  28
Cost Per Serving:  $1.96
Laxative Ingredient(s):  Senna Leaf, Dandelion Leaf
Moneyback Guarantee:  No
Where To Buy:  Click Here
Ingredients:  Morning Boost: Green Tea Leaf, Mate Leaf, Nettle Leaf, Dandelion Leaf, Guarana Fruit, Orange Flavouring.
Night Cleanse: Senna Leaf, Ginger Root, Orange Leaf, Lemongrass Leaf, Peppermint Leaf, Liquorice Root, Hawthorn Berry, Psyllium Seed, Natural Lemon Flavouring
Overall Opinion:
Overall, at 2.5 out of 5 stars, Skinny Mint 28 Day Teatox is pretty average.
It has its pros and it has its cons.
I like how easy it is to use; it comes in teabags that are labeled whether to use them in the morning or at night.
I also really liked how the Morning Boost made me feel.  It gave me energy, and I felt awake and refreshed.  Although, this one didn't taste the best.  I really love the ingredient lineup in this tea.  It's packed with Green tea which is great for so many things.
The Night Cleanse tasted delicious, minty and refreshing.  However, the side effects from the night tea were very strong.  Every morning I was using the restroom, and this continued throughout the day (multiple times).  You only take the night tea every other day, but I still found myself using the restroom even on the off days.
The Night Cleanse contains Senna Leaf which is a laxative ingredient that I really don't care for. There are laxative ingredients out there that are gentler and easier on your digestive tract that I prefer over Senna Leaves.
Along with the constant restroom use, I had a bit of stomach cramping while using the Night Cleanse.  It wasn't bad, but I could definitely feel some discomfort.
I didn't notice any weight loss while using this teatox, but I did notice I was less bloated and felt a little skinnier.  But that definitely came from the laxative effect and loss of water.
So after trying Skinny Mint 28 Day Teatox, I gave it 2.5 out of 5 stars.
Detailed Opinion:
Ease of Use
This tea comes with 2 parts, your Morning Boost Tea and your Night Cleanse tea.
There are 28 teabags of the Morning Boost, and 14 teabags of the Night Cleanse.  So you drink the morning one daily, and the nighttime one every other night, starting day 1 of the teatox.
Both types of tea come in pyramid teabags and are very easy to use.  The strings on the bags also clearly label which tea is which, which is nice.
The Morning Boost contains caffeine, so you're instructed to use it in the morning, by steeping one bag for 4-5 minutes.
The Night Cleanse you only steep for 2-3 minutes in boiling water, and you use it after your last meal of the day.  Don't worry about it keeping you up at night, as it's caffeine free.
The Night Cleanse you need to be careful with how long you steep.  It contains Senna Lea which is a strong laxative.  I don't need to go into detail about what will happen if you steep this one too long (yikes).
The good news with this one is you only use the night time cleanse every other night.  I like that they only have you use it every other night, because using Senna Leaf daily is a shock to the body and it's not healthy.
Taste
The Morning Boost tea smells SO good; it smells like peach tea (and who doesn't like peach tea?).  But once you brew it, it sadly doesn't taste how it smells.  Now, it doesn't taste bad, but I had my hopes set pretty high based on the scent.  It tastes more like orange, and has a bitter, pungent after taste.  It wasn't my absolute favorite taste, but it wasn't the worst either.  It does taste better with a dollop of honey in it.
The Night Cleanse tea smells minty, and that's exactly how it tastes (hence Skinny Mint's name).  I really enjoyed the taste of the nighttime tea.  It was refreshing and calming to drink right before bed.  If any of you have had spearmint tea, it's very similar to that.
Ingredient Analysis
The Morning Boost consists primarily of green tea, which is great for a little energy in the morning.  It also contains Dandelion Leaf which is known to cause a laxative effect.  The effects of Dandelion Leaf aren't as powerful as Senna Leaves, but it definitely works to get things moving down there.  I don't mind taking Dandelion Leaf in my tea every once in a while, because I don't find myself running to the bathroom like I do with other laxatives.  It seems to be a more mild laxative, although I don't think I'd use it for long periods of time.
The Night Cleanse contains Senna Leaf, which is an ingredient that I try to stay away from.  It may work for some of you, but for me it causes a very intense laxative effect that causes me to be uncomfortable.  Also included in the Night Cleanse are Liquorice Root and Peppermint Leaf.
Results
I had mixed results with this teatox.  I found the Morning Boost gave me great energy, and I liked the way it made me feel.  But I really didn't like the Night Cleanse.  The Night Cleanse had me going to the bathroom each morning (and then multiple times throughout the day).  Part of this could be from the Dandelion Root in the Morning Boost as well.
I like that they tell you to only drink the Night Cleanse every other night to try and make it more gentle, but I really don't like Senna Leaf and the effect it has on my body.
I noticed I wasn't as bloated while using this tea (because of the frequent bathroom trips!), but I didn't notice any significant weight or fat loss.
Side Effects
You'll be using the bathroom quite often while using this tea (which isn't really healthy).
I also had a little stomach cramping while using it.
Price/Value
Skinny Mint 28 Day Teatox is $54.90 for a 28 day supply.  That is pretty expensive, but when you break it down, it's $1.96 per day which isn't SO bad.
Guarantee
Skinny Mint doesn't offer a money back guarantee.  However, you can return the product within 60 days if it's unopened.
Where To Buy
To buy Skinny Mint 28 Day Teatox, Click Here.
Skinny Mint 28 Day Teatox:  Summary
| Factor | Skinny Mint 28 Day Teatox |
| --- | --- |
| Overall Rating | |
| Ease of Use | These teabags are very easy to use. |
| Taste | Morning Boost tastes like orange with a bitter after taste.  Night Cleanse is minty and fresh. |
| Notable Ingredients | Green Tea Leaf, Senna Leaf, Dandelion Leaf, Peppermint Leaf |
| Results | No weight loss, but a little less bloated |
| Side Effects | Using bathroom often and stomach cramping |
| Price/Value | It's $1.96 per serving, which is pricier than average, but not too crazy. |
| Guarantee | No guarantee |
| Where To Buy | Click Here |
Category: Detox Tea Reviews