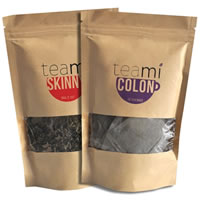 Product Name:  Teami Detox 30 Days
Overall Rating:  

Morning or Night:  Morning and Night
Price:  $49.99
Teabags or Loose Leaf:  Loose Leaf and Teabags
Servings Included:  30
Cost Per Serving:  $1.66 per day
Laxative Ingredient(s):  Senna Leaf, Rhubarb Root
Moneyback Guarantee:  No
Where To Buy:  Click Here
Ingredients:  Teami Skinny Tea: Oolong, Yerba Mate, Lime leaf Extract, Lotus leaf, Ginger Root, Dandelion leaf, Rhubarb Root
Teami Colon Cleanse Tea: Senna Leaf & Root, Hawthorn Berry Extract, Lotus Leaf, Lime Leaf & Extract, Psyllium Husk Seed, Phaseolus Calcaratus Seed, Rhubarb Root, Poria Cocos Stem Bark, Valerian Root
Overall Opinion:
Overall, I was very disappointed with Teami Detox 30 Days after testing it out.
Basically, it's an overpriced tea that'll make you poop and tastes disgusting.
The 30-Day Detox comes with both a Skinny Tea that you drink in the morning, and a nighttime Colon Tea.  You drink the morning one daily, and the nighttime one every other day.
The weird thing about this detox tea is one is a loose leaf and the other comes in teabags, I've never seen that before.
Both these teas taste horrible.  The Skinny one tastes like cigarettes and the Colon one tastes like warm broccoli.  I really dreaded having to drink them.
Now, the Colon tea contains 2 laxatives, one being Senna Leaves which are very harsh.  This tea had me going to the bathroom very frequently, and in the process, dehydrating my body.  My stomach hurt the entire time I was using it as well.  And, to top it off, I didn't see any long-term weight loss or reduction in my bloating.  Teami Detox Tea is so harsh, and it's not healthy to be using the bathroom so often.
So like I mentioned before, this tea is basically just a very expensive laxative.
Detailed Opinion:
Ease of Use
Teami is different in that the morning "Skinny" tea is loose leaf, and the nighttime "Colon" tea is in teabags.  Personally, I prefer teabags, so I found the Colon tea easier to use.
The Skinny tea wasn't the easiest to use. For the Skinny tea, you drink it in the morning, and the directions say to add 1 teaspoon in a cup of near boiling water and steep for 3-5 minutes.  They then go on to say you can use an infuser for clearer tea.  You can use this tea without an infuser? What? I've never heard of that before.  And that sounds like you'd be drinking a glass full of herb filled water, no thank you.  So, I decided to use an infuser, and I still ended up with some chunks floating around in my drink.  This tea you can drink daily.
The Colon tea was pretty easy to use, as it came in prefilled teabags. You're advised to only use this one every other night, as this is the powerful one.  You only steep it for 1-3 minutes, and I definitely wouldn't steep longer than that.  This one contains a very powerful laxative ingredient, Senna Leaf, so if you steep longer then 3 minutes, let's just say you and your toilet will become extra friendly 😉
Taste
I wasn't a fan of how either the Skinny or the Colon tea tasted.
The Skinny tea is very bland and doesn't have much of a taste.  But it does have an after taste that resembles cigarettes…ew.
The Colon tea tasted liked vegetables; it literally tasted like I was drinking a cup of hot broccoli juice.  It was so gross, I had to choke it down each time I drank it.  Ain't no honey or lemon gonna cover up that taste!
Ingredient Analysis
The ingredients in the Teami Skinny tea are okay.  It includes Yerba Mate, which has mateine in it, which is similar to caffeine.  This ingredient is also said to help the body burn fat by increasing your metabolism and energy levels.
The morning tea also contains Oolong Tea which is used is many detox teas.
There is a laxative in the morning tea as well, Rhubarb Root.  Although it's not as strong as Senna Leaf, it may help get things going in the morning.
The Colon tea contains Senna Leaf, which is one of my least favorite ingredients.  It's a laxative that has a very strong effect on my body.  In my opinion, it's not a healthy ingredient to include in teas.
To top it off, the Colon tea also has Rhubarb Root, so it has double the laxative effect.
Results
I didn't notice any weight loss, or "detox" results from this tea.
I was still bloated around that time of the month, and the only weight I lost was a few pounds of water weight (which I quickly gained back after I stopped the tea).  I only lost the water weight due to how frequently I was using the bathroom.
I had high hopes for this tea because I've seen a lot of celebrities promoting in on Instagram, but after trying it, I'm starting to think they were paid and their results are doctored.
Basically, this is just a tea that will make you poop.  It won't make you miraculously lose weight or get skinny.
Side Effects
Along with excessive trips to the bathroom, I also had stomach cramping and bloating while using this tea.
My stomach just didn't feel right and it was very unsettled.
I was also very dehydrated while using this tea, make sure to drink tons of water!
Price/Value
Teami Detox 30 Days is $50 for 30 days, which is pretty expensive.
Guarantee
No money back guarantee.  They don't even have a return policy!
Where To Buy
To buy Teami Detox 30 Days, Click Here.
Teami Detox 30 Days:  Summary
| Factor | Teami Detox 30 Days |
| --- | --- |
| Overall Rating | |
| Ease of Use | Skinny is loose leaf and messy.  Colon is easy to use, but don't over steep. |
| Taste | Both taste horrible. |
| Notable Ingredients | Yerba Mate, Senna Leaf, Oolong, Rhubarb Root |
| Results | I didn't see any results at all. |
| Side Effects | Going to bathroom, stomach cramping, dehydration |
| Price/Value | It's $50 for 30 days, that's pretty pricey, especially for a tea that makes you poop. |
| Guarantee | No guarantee |
| Where To Buy | Click Here |
Category: Detox Tea Reviews