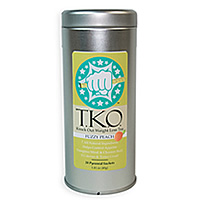 Product Name:  TKO Knock Out Tea, Fuzzy Peach
Overall Rating:  

Morning or Night:  Morning
Price:  $34.99
Teabags or Loose Leaf:  Teabags
Servings Included:  20
Cost Per Serving:  $3.50 per day
Laxative Ingredient(s):  Dandelion Root
Moneyback Guarantee:  No
Where To Buy:  Click Here
Ingredients:  Wu Yi Oolong Tea, Aged Pu-Erh Tea, Licorice Root, Dandelion Root, Ginger, Chickweed, Lemon Grass, and Natural and Artificial Peach Flavoring
Overall Opinion:
TKO Knock Out Tea is a great detox tea.  After testing it out I gave it 5 out of 5 stars, so I'm obviously very happy with it; it's one of the best teas out there.
I really love that this detox tea doesn't contain any harsh laxatives, such as Senna Leaf. It has Dandelion Root in it, which is a very mild laxative, it promotes your natural restroom cycle, and it's harsh in your body.
I felt awesome while using this tea.  I had enough energy to complete my workouts, I was less bloated, and I even noticed some weight loss.  I made sure to eat healthy and hit the gym hard while using the tea, and it sure paid off.
TKO Fuzzy Peach tea is one of the best tasting I've tried; I could drink it all day long!  It's peachy and fruity and doesn't have any of that gross herbal taste to it.
I also really liked how easy it is to use. They're sachet teabags that you use 2-3 times per day. (I used them twice per day.)
Now, TKO Tea is very expensive in my opinion.  Although, the results are worth it. It's $35 for a 10-day supply!
So overall, this is a detox tea, especially if you're looking for one that tastes delicious!
Detailed Opinion:
Ease of Use
These teabags are very easy to use.
It comes with 20 pyramid sachets that you put in 10 oz of water and steep only 1-2 minutes.  It doesn't have Senna Leaf, which is a strong laxative, so if you overstep it a little you should be okay.  But don't leave it in there too long as it does contain a mild laxative, Dandelion Root.
The directions say to drink 2-3 cups a day, preferable before meals.  I only drank 2 glasses per day and I drank them before breakfast and lunch.  This tea contains caffeine so you don't want to drink it late at night.
Taste
Oh my goodness, I could go on and on about how good this tea tastes (we tried the Fuzzy Peach flavor).
As soon as I opened the packaging, I could smell a very fruity, sweet, peach flavor.  And that's how the tea tastes, with only a touch of sweetness.  I really loved the way TKO Knock Out Tea tasted; I never got sick of it or dreaded drinking it.
I'd drink this tea even if I weren't trying to detox!
Ingredient Analysis
This tea contains 7 ingredients, and then peach flavoring.
As far as teas go, it includes Wu Yi Oolong and Aged Pu-erh Tea.  Both of these teas are said to help with weight loss.  Oolong helps your metabolic rate and also promotes the oxidation of body fat, while Pu-erh can help speed up your digestive system.
TKO Knock Out Tea also has Dandelion Root in it, which is a very gentle laxative ingredient.  So this has a very light detox effect.  It's also a great antioxidant and helps with swelling and inflammation.
Results
While using this detox tea, I felt amazing!
I think it really helped me lose an extra pound or two.  Now, I didn't lose the weight just from drinking this tea.  I worked my butt of in the gym, and also ate healthy.  But by using this tea in conjunction with those things, it really helped me reach my goals.
I felt pretty energized while drinking this tea, so I also had extra energy in the gym (which obviously helps with weight loss).  I was really able to push myself, and felt great while doing so.
I also noticed I wasn't as bloated as I usually am, and I contribute a lot of that to this tea.
Side Effects
I didn't experience any negative side effects while using this tea.
It has a gentle laxative ingredient in it (Dandelion Root), but I didn't use the restroom anymore than normal. And I definitely didn't have that explosive feeling that Senna Leaves give you.
Price/Value
This is the part about this tea that I don't like.  It's so expensive!  I drink 2 cups a day, and that's $3.50 per day.  If you drink 3 cups per day, the price jumps to $4.25 per day, which is probably the most expensive I've seen.
Guarantee
There's no money back guarantee for this detox tea, which really sucks.
Their return policy is lame as well.  You have to return it within 7 days of receiving it, and you need to pay a restocking fee.
Where To Buy
To buy TKO Knock Out Tea, Click Here.
TKO Knock Out Tea: Summary
| Factor | TKO Knock Out Tea |
| --- | --- |
| Overall Rating | |
| Ease of Use | These teabags are easy to use. |
| Taste | Tastes delicious, like peach! |
| Notable Ingredients | Wu Yi Oolong, Aged Pu-erh Tea, Dandelion Root |
| Results | I felt great, lost weight, and looked skinny. |
| Side Effects | No side effects |
| Price/Value | It's at least $2.50 per day, that's very expensive. |
| Guarantee | No guarantee |
| Where To Buy | Click Here |
Category: Detox Tea Reviews