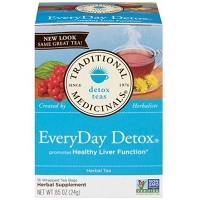 Product Name:  Traditional Medicinals EveryDay Detox
Overall Rating: 

Morning or Night:  Morning and Night
Price:  $5.29
Teabags or Loose Leaf:  Teabags
Servings Included:  16
Cost Per Serving:  $0.33
Laxative Ingredient(s):  Dandelion Root, Chicory Root
Moneyback Guarantee:  Yes
Where To Buy:  Click Here
Ingredients:  Organic Chicory Root roasted, Organic Dandelion Rooot, Schisandra Fruit Dry Extract, Organic Schisandra Fruit, Organic Lycium Fruit Dry Extract, Organic Licorice Root, Organic Ginger Rhizome, Organic Star Anise Fruit, Organic Kukicha Twig
Overall Opinion:
I wanted to like this EveryDay Detox, but unfortunately it fell short in my eyes.
After trying it out, I ended up giving it 2 out of 5 stars.  So it's not as good as your average teatox.
First off, I really dislike black licorice and that's exactly what this tea tastes like.  So it sucked drinking 2-3 cups per day.  But if you like black licorice, then you're in business with the taste of this one.
Also, I don't like that I experienced a mild laxative effect while drinking this tea.  It had Dandelion Root and Chicory Root, both which can act like laxatives.
It has some other cutting edge ingredients that seem really good for you though.
This tea was also a pain to use.  You need to drink up to 3 glasses per day, for 6 weeks!  Not to mention you need to steep each cup for 10-15 minutes, which seems like a long time.
I do really like how they offer a money back guarantee though.  So you can try this tea with little to no risk.  If you don't like it, or it doesn't work for you, just send it back.
Detailed Opinion:
Ease of Use
There's a few things I don't like about using this detox tea.
First, you need to drink 2-3 cups a day.  2 cups a day is pretty normal for a detox tea, but 3 is just a lot.
Also, you need to steep Traditional Medicinals EveryDay Detox for 10-15 minutes.  That's a long time to wait around while steeping your tea.  Most teas you just steep for a few minutes.
There's only 2 mg of caffeine in each cup, so you can drink it at any time. I drank mine morning, noon, and night.
If you're sensitive to caffeine, I wouldn't drink it right before bed though.
There's another thing I don't like about this detox tea.
When using it 3 times per day, a box will only last you 5 days.  If you drink 2 cups per day, it will last you 8 days.  They say to use it for 6 weeks for it to be effective.
So you'll end up needing at least 6 boxes of this tea in order to complete your detox.  That winds up being pretty pricey for a tea that initially sounds so cheap.
Taste
I personally don't care for the taste of this tea at all.
It has a strong black licorice flavor.  If you like black licorice, then I'm sure you'll enjoy this tea.
But I don't like black licorice, and to me it tastes really bad.
Ingredient Analysis
The good thing about the ingredients in Traditional Medicinals EveryDay Detox is that it doesn't contain any super strong laxatives.
However, it does have one mild laxative, Dandelion Leaf.  I experienced a mild laxative effect while drinking this tea, which I wouldn't say is pleasant.
As far as other ingredients go, it contains Chicory Root which is said to be a less caffeinated alternative to coffee.  It's also said to have some great health benefits such as protecting your liver, combatting inflammation, and even helping your gut.  It's also said to help relieve constipation, which makes me think it has laxative properties as well.
Schisandra Fruit is an ingredient I have never heard of until now.  After researching it, I found that it has many benefits.  It can help lower your hormone stress levels.  They also claim that it can help athletes; Chinese athletes use it in their training tablets.
So overall, the ingredients in this detox tea are good, but I didn't like the slight laxative effect it had on my body.
Results
The results of this detox tea left a lot to be desired.
First off, you have to use this detox tea for 6 weeks which is longer than most.  I don't mind that you need to use it for 6 weeks, as it seems like they're being realistic about the timeframe it takes to see results.  However, after 6 weeks, I still didn't feel or look much better.
Yes, I was using the bathroom more often, but that's about it.
As far as weight loss goes, I didn't lose any weight.  And I didn't see an increase in energy while using this tea.
My bloating stayed the same as well.
So I didn't get any negative results from this tea, but I also didn't see any positive results.
Side Effects
I was using the restroom a little more often than usual, so it had a slight laxative effect on me.
Price/Value
Traditional Medicinals EveryDay Detox seems cheap at only $5.29 per box.  But when you take into consideration you'll need 6 boxes to complete the detox, it becomes more expensive.  That works out to over $30 for this teatox.
Guarantee
Yes, Traditional Medicinals has a money back guarantee, which I am SO happy to see.
If you're unhappy with the product, you can send it back to them for a refund… easy as pie!
Where To Buy
To buy Traditional Medicinals EveryDay Detox, Click Here.
Traditional Medicinals EveryDay Detox:  Summary
| Factor | Traditional Medicinals EveryDay Detox |
| --- | --- |
| Overall Rating | |
| Ease of Use | Not so easy to use, and you need to use it for 6 weeks. |
| Taste | Tastes like black licorice. |
| Notable Ingredients | Dandelion Root, Chicory Root, Schisandra Fruit |
| Results | Didn't see any positive results. |
| Side Effects | I experienced a mild laxative effect. |
| Price/Value | It's about $1 per day, which is a good price.  But you need to use it for 6 weeks. |
| Guarantee | Yes, they have a great guarantee. |
| Where To Buy | Click Here |
Category: Detox Tea Reviews