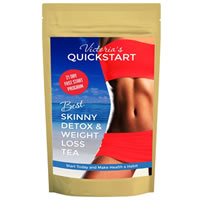 Product Name:  Victoria's Quickstart Detox Tea
Overall Rating:  

Morning or Night:  Morning
Price:  $29.97
Teabags or Loose Leaf:  Teabags
Servings Included:  21
Cost Per Serving:  $1.43
Laxative Ingredient(s):  None
Moneyback Guarantee:  No
Where To Buy:  Click Here
Ingredients:  Organic Holy Basil, Organic Spearmint, Organic Rose Hips, Organic Lemon Myrtle, Organic Linden Blossoms, Organic Ginger Root
Overall Opinion:
I gave Victoria's Quickstart Detox Tea 3 out of 5 stars after using it for 3 weeks.  So I found it to be slightly better than your average detox tea.
As far as the things I liked, this tea is very easy to use, it tastes pretty good, and it doesn't contain any laxatives.
You only have to drink one cup a day in the morning, which makes this detox tea super easy to use.  You also don't need to worry about brewing your tea too strong and having a laxative overload with this tea, because it doesn't contain laxatives.
It tastes of light spearmint.  If you don't like mint tea, you probably won't like this one.  But I enjoy mint tea, and I think this one tastes pretty good.
My results were also pretty good, although they didn't last after I finished this teatox.   I felt a lot less bloated while using this tea, and I also lost a few pounds.  But after I stopped using the tea, the bloating came back.
One thing I don't like about this tea is that one of the ingredients, Holy Basil, can possibly be bad for your fertility.  You also can't use it while pregnant or breast-feeding.
Victoria's Quickstart Detox Tea also doesn't have a money back guarantee, which is upsetting.
But overall, I think this is a decent detox tea, so it earned 3 out of 5 stars from me.
Detailed Opinion:
Ease of Use
I love how easy Victoria's Quickstart Detox Tea is to use.  On the bag, it says to brew one cup every morning, but you can really drink it whenever you want as it's caffeine free.
I followed the directions and used it in the morning.  It comes in tea bags, and you just steep it for 5-7 minutes.  It's nice because it doesn't have any laxatives in it, so you don't need to worry about brewing it too strong.
The off thing about these tea bags is they have no string to fish them out, so I had to use a fork.
Taste
The taste of this tea is refreshing and light.  I really enjoyed it.
Spearmint is the prominent flavor, but it wasn't overpowering.  It tasted like a mild spearmint tea.  It was easy to drink daily; I didn't dread it one bit.
It would probably taste even better if you added a bit of lemon!
Ingredient Analysis
Organic Holy Basil is the main ingredient in this tea.  I have mixed feelings about this ingredient.  It's supposed to help lower your cortisol levels.  Many people who have trouble losing weight have elevated cortisol (stress hormone) levels.  But holy basil is also said to be detrimental to your fertility, and your advised not to use it if you're pregnant or nursing.  So that's a little scary.
Victoria's Quickstart Detox Tea also contains Organic Spearmint, which is an ingredient that I love.  It's said to help with acne, weight loss, and overall wellness.  It supposedly helps to release excess estrogen, which is the cause of some weight gain.
Rose Hips are great for your immune system, as they're very high in Vitamin C.
The great thing about this detox tea is it doesn't contain any laxatives, so I didn't need to worry about dehydrating my body from using the restroom a lot.
Results
I felt pretty good while using this detox tea.
After 3 weeks of using it, I lost about 2-3 pounds and I felt like I'd slimmed up a bit.
Now, this isn't a miracle tea.  I watch what I eat carefully, and also put in my work at the gym.
But this tea helped give me the little boost I needed to lose a few extra lbs.
I also felt less bloated while I was drinking this tea.  Although, after I stopped it, the bloating came back.
I was just a little scared while using this tea because I read that Holy Basil can affect your fertility.
Side Effects
I noticed that after drinking this tea, some days I'd get very tired.  It doesn't contain caffeine in it, so that explains why.
One day after drinking my daily cup, I had a stomachache too.
Price/Value
Victoria's Quickstart Detox Tea is $1.43 per serving, which is an average price point.
Guarantee
I couldn't find any money back guarantee for them, what gives?!
I was disappointed to see that.  I actually didn't find any return policy at all.
Where To Buy
To buy Victoria's Quickstart Detox Tea, Click Here.
Victoria's Quickstart Detox Tea:  Summary
| Factor | Victoria's Quickstart Detox Tea |
| --- | --- |
| Overall Rating | |
| Ease of Use | Easy to use, brew one cup a day. |
| Taste | Tastes good, like light spearmint tea. |
| Notable Ingredients | Organic Holy Basil, Organic Spearmint, and Organic Rose Hips |
| Results | I saw decent results, although they weren't lasting. |
| Side Effects | I was tired while using it, and had a stomach ache one day. |
| Price/Value | It's $1.43 per day, that's pretty average. |
| Guarantee | No guarantee |
| Where To Buy | Click Here |
Category: Detox Tea Reviews