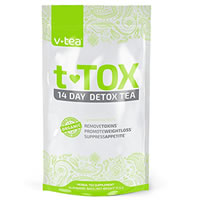 Product Name:  Vtea Teatox 14 Day Detox Tea
Overall Rating:  

Morning or Night:  Morning
Price:  $15.95
Teabags or Loose Leaf:  Teabags
Servings Included:  14
Cost Per Serving:  $1.14
Laxative Ingredient(s):  Dandelion Leaf, Burdock Root
Moneyback Guarantee:  Yes
Where To Buy:  Click Here
Ingredients:  Tulsi, Dandelion Leaf, Yerba Beuna (Spearmint), Fenugreek Seed, Rosemary, Nettle Leaf, Burdock Root
Overall Opinion:
I really enjoyed this detox tea so I gave it 4.5 out of 5 stars.
It comes in teabags that are very easy to use.  You just drink one each morning on an empty stomach.
It tastes really good, like a mild spearmint flavor.  It's very refreshing and light.
The ingredients in Vtea Teatox are great.  It has two mild laxatives, but they aren't nearly as harsh as Senna Leaf, and they had no negative effects on my body.
It also has Holy Basil, Spearmint, and Fenugreek Seeds, which all have great benefits for your body and health.
I also looked and felt great while using this tea (and even after I finished).  I felt lean and toned, and my acne even cleared up.
To top it off, Vtea has a lifetime guarantee through Amazon (I think that's the only place they're sold.), so that's great.
I was very impressed by this slimming tea, so I gave it 4.5 out of 5 stars.
Detailed Opinion:
Ease of Use
This teatox is very easy to use.  It comes in teabags, and you only need to drink one cup per day, in the morning. You're directed to drink it on an empty stomach, so I drank mine right when I work up, before breakfast.
For those of you with a time crunch in the morning, you may find it difficult to find time to drink it on an empty stomach.
All you do is steep in boiling water for 5 minutes, then enjoy!
Taste
I really enjoyed the taste of Vtea Teatox.  It tastes like a light spearmint tea, very refreshing.
I think most people will like the taste of it; it's not very strong.
Ingredient Analysis
This detox tea is pretty simplistic as far as ingredients go.  And I really like that.
It only has 7 ingredients total.  Now, it does have 2 mild laxatives in it… Burdock Root and Dandelion Leaf. But I didn't notice any adverse side effects from these ingredients, probably because you only drink one cup a day for 2 weeks.
The main ingredient in this tea, is Tulsi, also known as Holy Basil.  Holy Basil has been said to lower your stress hormone, and also reduce anxiety.  It's also said to be good for your lungs and asthma.
Spearmint is another ingredient in this tea.  Spearmint is good for your skin and indigestion.
Fenugreek seeds are an ingredient I hadn't heard of.  They come from a plant and have polyphenols in them that are known for their antioxidant effects.
All ingredients in this detox tea are caffeine free.
Results
I like this tea because they're realistic about the results.  On the bag it says, "Remember this is just tea. It's up to you to adjust your eating habits, water consumption and exercise to get the best results possible!".  I love that it says this, because they're one of the only teas that don't claim to be a "miracle worker".
That being said, I felt great while using this tea.  I eat pretty clean and work out 5 times a week, so adding this tea really benefited me. I felt less bloated, and my skin looked clearer.
My body also felt very regulated while I was using this detox tea.
I think the combo of this tea, exercise, and healthy eating worked great for my body!
Side Effects
I didn't have any bad side effects.  Although I did feel a little tired each morning, because this tea is caffeine free, so it took me longer to wake up.
Price/Value
Vtea Teatox is $15.95 for a 2 weeks' supply.  That's $1.14 per day, which is pretty average.
Guarantee
Yes, on Amazon they say they have a Lifetime Refund or Replacement Guarantee.  I love that they stand behind their product!
Where To Buy
To buy Vtea Teatox, Click Here.
Vtea Teatox:  Summary
| Factor | Vtea Teatox |
| --- | --- |
| Overall Rating | |
| Ease of Use | Easy to use, drink one cup a day in the morning |
| Taste | Tastes like a mild spearmint tea |
| Notable Ingredients | Holy Basil, Dandelion Leaf, Spearmint, Fenugreek Seed, Burdock Root |
| Results | I saw good results.  I felt less bloated and my skin cleared up. |
| Side Effects | I felt tired in the morning due to lack of caffeine. |
| Price/Value | It's $1.14 per day, which is pretty average. |
| Guarantee | Yes, they have a lifetime guarantee. |
| Where To Buy | Click Here |
Category: Detox Tea Reviews