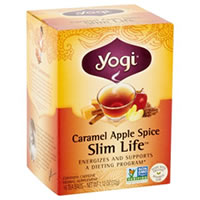 Product Name:  Yogi Slim Life Tea
Overall Rating:  

Morning or Night:  Morning
Price:  $4.89
Teabags or Loose Leaf:  Teabags
Servings Included:  16
Cost Per Serving:  $0.62- $.1.24 depending on how many cups you drink per day.
Laxative Ingredient(s):  None
Moneyback Guarantee:  Yes
Where To Buy:  Click Here
Ingredients:  Organic Assam Black Tea Leaf, Organic Rooibos Leaf, Organic Apple Flavor, Natural Vanilla Flavor, Organic Caramel Flavor, Salt, Organic Cinnamon Bark, Organic Schisandra Berry, Apple Pieces, Luo Han Guo Fruit Extract, Cardamom Seed, Organic Ginger Root, Organic Clove Bud, Organic Black Pepper, Natural Cinnamon Bark Oil, Natural Cardamom Seed Oil
Overall Opinion:
After giving this detox tea a try, I really love it, so I gave Yogi Slim Life Tea 4 out of 5 stars.
Now, this tea tastes SO delicious.  It tastes like sweet apples; I easily drank it twice a day.
The teabags themselves are super easy and convenient to use.
I reallyyyy love that this detox tea doesn't contain any laxatives.  It's so nice being able to enjoy my tea, not worrying when I'm going to need to haul my butt to the bathroom (and hoping I'll be around a bathroom!).
The ingredients in this tea are all great and very healthy.
I saw and felt some really great results while using this tea.  I was noticeable less bloated, and had a lot of energy.  I lost about 1-2 pounds, and know if I continued using this tea on a regular basis I could lose even more.
Yogi even has a money back guarantee.  So I don't have many negative things to say about this product, and overall I really enjoyed it.
Detailed Opinion:
Ease of Use
Yogi Slim Life Tea is very easy to use.  They come in teabags, and the teabags are each individually wrapped in envelopes.
The directions state to steep for 4-6 minutes and to drink 2-4 cups daily.  I drank 2 a day and it worked great for me.  I think 4 cups per day is a bit excessive, but that's just my opinion.
I'd use this one in the morning or afternoon due to its caffeine content.
Taste
I tried this one in the Caramel Apple Spice flavor. Holy cow, this one tastes delicious. It tastes like sweet apple, almost like cider.  It's not overly sweet though, just the perfect amount.
It tastes so good that I even craved it after I stopped using it!  I looked forward to drinking my two cups of it daily.
I didn't taste much caramel, apple was definitely the strong flavor, but regardless, it tastes fabulous!  Even just smelling it in the cup is enough to get me excited.
I think they have another flavor or two to choose from as well, and both of them sounded good too.
Ingredient Analysis
Yogi Slim Life Tea has a great bunch of ingredients in it.
First and foremost, I love that it doesn't contain any laxatives at all.   They steered clear of Senna Leaves, which is great, because that's a very scary ingredient that I'm not a fan of.
This detox tea contains Organic Assam Black Tea Leaf, which is great for your digestive system and is also said to help with high cholesterol.  Black Tea also has some caffeine in it.
Organic Rooibos Lead is another ingredient in this tea.  Rooibos is included in many weight loss and detox teas because it's said to oxidize fat, therefore leading to weight loss.
Yogi Slim Life Tea also has Cinnamon Bark in it, which is great for your GI tract.
Results
While using this tea (and even after I stopped), I felt great.  I was very happy with the results I saw from this tea.
I noticed I had less bloating, and while I didn't notice any significant weight loss, I can easily see how using the tea can lead to weight loss over time.
By using this tea in place of sugary soft drinks and energy drinks, you'll be cutting out sugar and many other bad ingredients, and replacing them with this healthy tea.  That alone is enough to see the pounds start shedding.  But in order to see the best results, make sure you're eating a healthy diet and also working out.
I personally lost about 1-2 pounds while using Yogi Slim Life Tea.  Now, like I said that's not a whole lot, but with continued use, I know I'd continue to lose more.
Even more importantly, I felt really healthy and calm the whole time I used this tea. I do wish it had a bit more caffeine though, as I got more of a calming effect, rather than a lot of energy.  Each bag has 35 mg of caffeine, compared to 90mg per each 8oz cup of coffee.
The good news is you can keep using this tea as long as you'd like, or until you reach your weight loss goals.
Side Effects
I noticed I was a little tired after drinking this tea.  I wish it gave me more of an energy boost when I drank it.
Price/Value
At only $4.89 per box (16 teabags), this tea sounds cheap, but one box will only last you 4-8 days.
Guarantee
Yes, Yogi has a money back guarantee!  Hats off to them, because I've found most of these tea companies don't have return policies, much less a money back guarantee.
With Yogi, if you're unhappy with your tea for any reason, you can send it back for a refund.  They don't even have a time limit on it.  That's what I call good customer service!
Where To Buy
To buy Yogi Slim Life Tea, Click Here.
Yogi Slim Life Tea:  Summary
| Factor | Yogi Slim Life Tea |
| --- | --- |
| Overall Rating | |
| Ease of Use | Very easy to use, it comes in teabags. |
| Taste | Tastes so good, like sweet apples. |
| Notable Ingredients | Black Tea Leaf, Rooibos Lead, Cinnamon Bark |
| Results | I felt less bloated and lost 1-2 pounds. |
| Side Effects | No side effects |
| Price/Value | It's $4.89 per box. |
| Guarantee | Yes! |
| Where To Buy | Click Here |
Category: Detox Tea Reviews