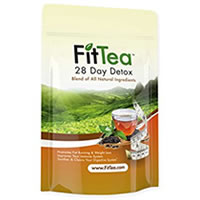 Product Name:  Fit Tea 28 Day Detox
Overall Rating:  

Morning or Night:  Morning
Price:  $45.00
Teabags or Loose Leaf:  Teabags
Servings Included:  28
Cost Per Serving:  $1.60
Laxative Ingredient(s):  None
Moneyback Guarantee:  No
Where To Buy:  Click Here
Ingredients:  Rooibos, Green Tea, Ginger, Oolong, Pomegranate, Stevia, Guarana, Citric Acid, Sea Salt (electrolytes), Lemon Juice, Honey, Matcha Green Tea, Garcinia Cambogia Extract
Overall Opinion:
I gave Fit Tea 28 Day Detox 4.5 out 5 stars, so I really like this tea.
It tastes great, is easy to use, and I saw some decent results while using it.
One thing in particular I like is the fact that it doesn't contain any harsh laxatives in it.
Those types of detox teas really aren't very healthy and any weight that's lost is water weight that comes right back.  So kudos to Fit Tea for keeping those types if ingredients out of their tea.
One of the only things I really don't like is that they don't have a money back guarantee.  In this day and age, companies really should stand behind their product if it doesn't work for someone!
I think Fit Tea is great to use long term, and can work well for weight loss in conjunction with a healthy diet and exercise.
Detailed Opinion:
Ease of Use
Fit Tea is overall pretty easy to use.
It comes in tea bags, which is great.  However, this is another one that doesn't have the string on the bag to pull it out of your mug– I just don't get it.
They're also not individually wrapped like some tea bags are.
Taste
Fit Tea tastes SO good; this is definitely one of the best tasting detox teas I've tried.
It tastes like lemon, and has a pretty mild, relaxing taste.
It's perfect for waking up in the morning and being refreshed.  On the bag it says you can add honey or lemon to it, but I didn't need to.  It was delicious as is.
Ingredient Analysis
Fit Tea contains green tea, which contains caffeine, and caffeine is said to help promote healthy weight loss as it oxidizes fat.  Green tea is a great way to get your daily dose of caffeine, as it doesn't have all the added sugar that sodas and energy drinks have.
Furthermore, Fit Tea also contains Garcinia Cambogia Extract, which comes from a small fruit.  This ingredient is said to curb cravings and aid in the shedding of fat over time (in small, reasonable amounts).
Results
While using this tea, I saw some really awesome results.
I used it in conjunction with a healthy diet and 4 weekly workouts, and I dropped about 1-2% in body fat (per my Fit Bit scale).
Another great thing, I noticed I was less bloated throughout the month (even during THAT week, girls you know what I'm talking about).
I really like that you can continue to use this tea as long as you'd like to, as it doesn't contain any laxative ingredients.  So if you continue to use this tea in place of your sugary sodas, coffees and juice, you can definitely see some results in the weight loss department.
This isn't a miracle tea (none of them are), but with a good diet and exercise, this tea is a great way to boost weight/fat loss.
Side Effects
The only side effect I noticed while using Fit Tea 28 Day Detox was that it gave me more energy.  This side effect is very welcome!
Other than that, I made sure to stay very hydrated, and I never had any dehydration or headaches.
Price/Value
Fit Tea is $45 for a 28 day supply.  That works out to $1.60 per serving, which is pretty average.
All-in-all, it's not super cheap, but it's not expensive either.
Guarantee
This is where this tea really falls short; Fit Tea doesn't accept returns.
In my opinion, companies should stand behind their products and have a guarantee.
Where To Buy
To buy Fi tTea 28 Day Detox, Click Here.
Fit Tea 28 Day Detox:  Summary
| Factor | Fit Tea 28 Day Detox |
| --- | --- |
| Overall Rating | |
| Ease of Use | Easy to use, but they don't have strings are aren't individually wrapped. |
| Taste | Tastes delicious, like lemon with a hint of sweetness. |
| Notable Ingredients | Green Tea, Rooibos, Garcinia Cambogia Extract |
| Results | Saw some fat loss over the course of a month. |
| Side Effects | Just extra energy! |
| Price/Value | The price is $45 for 28 days, which is a pretty average price. |
| Guarantee | No guarantee, I was very disappointed to hear this. |
| Where To Buy | Click Here |
Category: Detox Tea Reviews