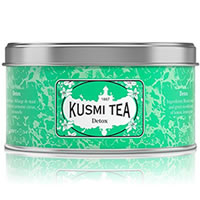 Product Name:  Kusmi Detox Tea
Overall Rating:  

Morning or Night:  Morning
Price:  $23.20
Teabags or Loose Leaf:  Teabags
Servings Included:  25
Cost Per Serving:  $0.93
Laxative Ingredient(s):  None
Moneyback Guarantee:  No
Where To Buy:  Click Here
Ingredients:  Mate, Green Tea, and Lemongrass
Overall Opinion:
I really love Kusmi Detox Tea so I gave it 5 out of 5 stars.
I felt and looked great while using this tea, and it doesn't contain any of the harsh laxatives a lot of detox teas have.  I ended up losing a few pounds, and lost a lot of bloat.  Another great thing about this detox tea is you can continue using it as long as you'd like to!
The taste is pretty universal; I think a lot of people will like it.  It tastes like a light, lemon green tea.
Kusmi Detox Tea only has 3 ingredients, and I love the simplicity of it.  The ingredients include Mate, Green Tea, and Lemongrass.  They're all known for aiding in weight loss.
The price point is great; the only negative is they don't have a money back guarantee.  I hate when companies don't stand behind their products.
Overall, I'm very happy with Kusmi Detox Tea; I think it's a very high quality tea.
Detailed Opinion:
Ease of Use
These tea bags are very easy to use.  They're also unique in that they come in muslin tea bags.  I like that, they seem very sturdy and high quality.
All you need to do is brew the teabag for 3-4 minutes, and it's great, you don't need to worry about over-steeping it because there are no laxative ingredients.
This one has both mate and green tea, which contain caffeine. So I'd recommend drinking this one in the morning or afternoon, not before bed.
Taste
Kusmi Detox Tea has a very mild, delicious taste.  I think this is a taste a lot of people will love.
It tastes like lemon, green tea.  The lemon flavor is light and refreshing, not sour or overpowering at all.
I felt refreshed every time I drank this tea.  In my opinion, this tea has a very high quality taste.
This is a great one to drink during any season because the flavor is so light and enjoyable.
Ingredient Analysis
Kusmi Tea only has 3 ingredients, Mate, Green Tea, and Lemongrass.  I love the simplicity of this tea, and I also really love that it doesn't contain any laxatives.
Mate is a stimulant and contains an ingredient similar to caffeine.  It can also help increase your metabolism and aid in the burning of fat. Yerba Mate has also been shown to slow down your digestive tract; therefore you feel fuller longer and don't eat as much.
Green tea also contains caffeine (so make sure to drink this one during the day!).  Like Mate, Green Tea can also increase your metabolic rate and help oxidize fat faster.
It's also been said that Lemongrass can help you lose weight.  So all 3 ingredients in this tea are great for aiding in your weight loss journey!
Results
What's great about this tea is that you can use it long term.  After I finished my box of 25 tea bags, I had already lost about 2.5 pounds, and I was ready to keep going.
A lot of these detox teas can be harmful to your body and digestive tract because they contain laxatives.  This one doesn't, and it actually has a lot of health benefits.
I also felt less bloated while using this tea.  I was even able to bust out my crop tops and bikinis!
Now, as always, don't expect to start drinking this tea and see the weight start falling off.  You'll need to also eat a healthy diet and make sure you're exercising a few times per week.  By doing those things and also drinking this tea, I think you'll slowly but surely start shedding the pounds.
Another great benefit of this tea is it gave me a ton of energy.  After I drank it, I was good to go for a few hours.  I found myself looking forward to my workouts, and even having more energy to do work around the house.
Side Effects
I didn't have any unwelcome side effects while drinking this detox tea.
Price/Value
Kusmi Detox Tea is $0.93 per serving… that's a great price for this tea! The box of 25 tea bags sells for $23.20.
Guarantee
No, they don't have a money back guarantee, which is a huge let down.  Their return policy is also not good, you only have 7 days to return items.  I was really disappointed in this.
Where To Buy
To buy Kusmi Detox Tea, Click Here.
Kusmi Detox Tea:  Summary
| Factor | Kusmi Detox Tea |
| --- | --- |
| Overall Rating | |
| Ease of Use | Super easy to use, use in morning or afternoon. |
| Taste | Tastes light and refreshing, like lemon green tea. |
| Notable Ingredients | Mate, Green Tea, and Lemongrass |
| Results | I lost a few lbs, felt less bloated, and had a lot of energy. |
| Side Effects | No side effects! |
| Price/Value | It's $23.30 for 25 tea bags, that price is a little less than average. |
| Guarantee | No guarantee |
| Where To Buy | Click Here |
Category: Detox Tea Reviews