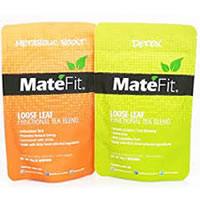 Product Name:  MateFit
Overall Rating:  

Morning or Night:  Morning, Afternoon, and Night
Price:  $24.99
Teabags or Loose Leaf:  Loose Leaf
Servings Included:  14
Cost Per Serving:  $1.78
Laxative Ingredient(s):  Senna Leaf, Dandelion Root, Rhubarb Root
Moneyback Guarantee:  No
Where To Buy:  Click Here
Ingredients:  Metabolic Boost: (Organic Yerba Mate, Sechung Oolong Tea, Organic Pinhead Gunpowder Tea, Organic Angelica Root Powder, Guarana Seed Powder, Organic Licorice Root cut and Organic Stevia)
Detox: (Organic Dandelion Root, Peppermint Loose Leaf Tea, Organic Rosemary Leaf, Organic Senna Leaf, Organic Cinnamon Powder, Organic Black Pepper, Organic Ginger Root, Organic Hibiscus Flower Powder, Organic Rhubarb Root Powder, Organic Lemongrass Leaf and Organic Grapefruit Peel)
Overall Opinion:
I wasn't impressed with MateFit Tea so I gave it 1.5 out for 5 stars.
This teatox consists of two teas, a morning and a night one.  The morning you have to drink twice a day, and the night one you drink every other night.  So some days you need to drink 3 glasses a day, which I found to be excessive.
The night tea has 3 laxatives in it, yes you heard that right, 3!!  Needless to say, this tea has a very strong laxative effect and it was really hard on my body.  I also felt sick to my stomach after drinking the night Detox tea.  It just tastes so bad; it was hard to choke down.  The morning tea tastes ok, but it's super sweet.
I also really don't like that they claim to have a money back guarantee, but they won't take the product back unless you've only used one teabag.  To me, that's just a little misleading.
While using this detox tea, I saw no results at all.  I was maybe a little less bloated, but that's only because I was using the bathroom so often.  Let me tell you, that's not a healthy way to lose weight!   It's very unhealthy and can actually be detrimental to your weight loss journey in the long run.
So overall, MateFit really fell flat for me.
Detailed Opinion:
Ease of Use
This detox teas comes with two parts, a morning Metabolic Boost tea and a nighttime Detox Tea.
Both of them are in the form of loose leaf tea, but they also provide 40 tea filters, which is very helpful.
The Metabolic tea you drink twice a day before breakfast and before lunch.  The Detox tea, you only drink every other night after dinner.  So some days you're drinking 3 glasses of tea a day, which I found inconvenient.
You also need to be very careful how strong you brew the Detox tea.  On the packaging, it says to brew it for 7-10 minutes, which is SO long to brew a tea with so many laxatives.  I found that brewing it this long made the tea taste so strong, and it also had a really strong laxative effect on my body.
Taste
The morning Metabolic Tea tastes okay.  It's VERY sweet though, probably too sweet.  The taste resembles sweet tea (like the kind you get at McDonalds). It wasn't bad tasting, but it was just too sweet for my liking.
Now, the evening Detox tea tastes SOO bad.  It's strong and bitter; I literally spit it out when I first tried it.  It's very foul tasting; I had to plug my nose to drink it.  Thankfully you only need to drink this one every other night.
Ingredient Analysis
I love the ingredient lineup in the morning tea, but I hate the lineup in the evening Detox tea.
The Metabolic tea includes Yerba Mate, which is great for burning fat.  It also includes Oolong Tea, which is also great for oxidizing fat and helping to boost your metabolism.
Another ingredient in the MateFite Metabolic tea is Pinhead Gunpowder Tea, which is green tea rolled up into tiny little pellets.  Green tea is another great ingredient for weight loss.
Now the MateFit Detox tea has some terrible ingredients in my opinion.
It has a total of 3 laxatives in it… that's shocking to me!  No wonder I was running to the bathroom so often.
It contains Senna Leaf, which is a very strong laxative in a lot of detox teas.  I really don't care for this ingredient as I find it to be too harsh.
It also contains Dandelion Root and Rhubarb Root, which are both mild laxatives (but laxatives nonetheless).
Peppermint tea is also included in the Detox tea, which is said to be great for inflammation and your immune system.
Results
My results from MateFit left much to be desired.  I didn't see any lasting results, and I didn't lose any weight while using this detox tea.
The only way this tea helped me lose excess water is by having me running to the bathroom in the middle of the night.  And let me tell ya, that wasn't a pleasant experience.  I also gained all the water back when I rehydrated each morning.
I was maybe just a tad less bloated while using this tea, but again, the bloating came back when I'd hydrate and when I stopped using the tea.  I found this detox tea to be very harsh on my body, and I even used their "Mini Detox".  I can't imaging how bad it'd be if I used the full 28 day supply.
The tea claims to act as a natural appetite suppressant, and I didn't notice any change in my hunger or eating habits, which was disappointing.
Side Effects
I felt so sick after drinking the nighttime tea.  It tasted so bad it made me sick to my stomach.  Not to mention, the laxative effect is so strong, so I was running to the bathroom multiple times a day/night.
I also got dehydrated, so I had a headache.
Price/Value
The price isn't bad, MateFit costs $24.99 for 14 days.  That's $1.78 per day, which is pretty average.
Guarantee
They don't have a money back guarantee, even though they claim they do.  On their website, it states they have a guarantee, and you can send it back if you're unhappy with the teatox.  But if you look further under their "Return Policy", it states you can only send the product back if you've opened only 1 teabag! If you've used two or more, nope, they won't return it.  How am I supposed to know if I like the teatox after only one cup? That's just ridiculous.
It's very misleading to say they have a money back guarantee, when they really don't.
Where To Buy
To buy MateFit, Click Here.
MateFit:  Summary
| Factor | MateFit |
| --- | --- |
| Overall Rating | |
| Ease of Use | Inconvenient, you need to drink 3 glasses a day. |
| Taste | The Metabolic tea tastes ok, but the Detox tea tastes SOO bad. |
| Notable Ingredients | Dandelion Root, Senna Leaf, Rhubarb Root, Yerba Mate, Oolong, Pinhead Gunpowder Tea |
| Results | I didn't see any weight loss results. |
| Side Effects | I felt sick, was dehydrated, and had a headache. |
| Price/Value | It's $1.78 a day, which is a pretty average price. |
| Guarantee | No money back guarantee even though they say there is. |
| Where To Buy | Click Here |
Category: Detox Tea Reviews