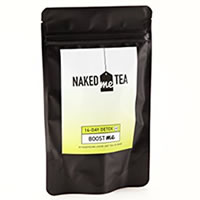 Product Name:  Naked Me Tea 14 Day Detox
Overall Rating:  

Morning or Night:  Morning and Night
Price:  $34.95
Teabags or Loose Leaf:  Loose Leaf
Servings Included:  14
Cost Per Serving:  $2.50
Laxative Ingredient(s):  None
Moneyback Guarantee:  No
Where To Buy:  Click Here
Ingredients:  Yerba Mate, Black Tea, Lixorice Root, Cardamom, Ginger Root, Black Pepper, Cloves and Gotu Kola
Cleanse Me:  Holy Basil, Spearmint, Rose hips, Lemon Myrtle, Ginger Root and Linden Blossoms
Overall Opinion:
I really love this Detox Tea, so I ranked it 4.5 out of 5 stars.
It tastes so good and different than most detox teas.  The morning tea tastes like Christmas; I couldn't get enough of it!
I also really love the ingredients in both of these teas, and it's a huge plus that neither of them contain any harsh laxatives.  It was really nice not having to worry about my digestive tract, and running to the bathroom every hour.
The results I got from using Naked Me Tea were also stellar.  I felt great, lost weight, and my skin even cleared up a little.  I also like that the night time tea helped me get my best night's sleep.
I wish these were in teabags, as they'd be easier to use.  And I also with they had a money back guarantee.  Those were two draw backs for me.  The price point is also very high, but you get a very high quality tea in Naked Me.
But overall, I'm really happy with this detox tea so I gave it 4.5 out of 5 stars.
Detailed Opinion:
Ease of Use
This is one small downside of Naked Me Tea, it's a loose-leaf tea, and it doesn't come in teabags.  I prefer teabags just because they're so convenient and easy to use.
The directions for both the Boost Me and Cleanse Me tea are the same, steep 1 tsp of tea leaves in a tea infuser for about 5-7 minutes.  It was pretty easy, and the great thing is that neither of these teas have harsh laxatives so I didn't really need to worry if I over steeped it a minute or two.
I noticed that some of the tea escaped into my tea, while I was infusing it, but it wasn't a big amount.
Taste
I really love the way both of these teas taste, especially the Boost Me Morning Tea.  It tasted like Christmas to me (I know, kind of an odd way to describe it).  But it has cloves in it that give it a very festive taste, almost like gingerbread.  I could drink this tea multiple times per day…it's that yummy!
The Cleanse Me Night Tea is still good, but I liked the morning tea better.  The night tea is minty and smooth, and not very strong.  In my opinion, it's the perfect calming flavor to drink before bed.  It gets its minty taste from spearmint, which I love.
Ingredient Analysis
These teas have an interesting ingredient blend that I really like.
First off, I am SO happy Naked Me Tea doesn't include any harsh laxatives in either of these teas.  This tea was gentle on my digestive tract, unlike many other teas that include laxatives.
The Boost Me tea contains Yerba Mate which is great for both your metabolism and immune system.  It also packs a punch of caffeine, so it's great to drink when you wake up.  It also includes Black Tea, which is good for burning fat and helping to regulate your blood sugar.  Some other ingredients including in this tea are licorice root, cloves and black pepper.
Now, the Cleanse Me Tea is caffeine free, so it's perfect to drink before bedtime.  It contains Holy Basil to helps lower stress and promotes healthy sleep.  It's also known to help with weight loss.  Spearmint is also included, and that's where this tea gets its minty freshness.  Spearmint is great for your skin and also helps aid in healthy digestion.  Linden Blossoms are known to be calming, and help act as a natural sleep aid.
Results
The results I saw while using this detox tea were great.
During the day I had tons of energy that I used to help complete my workout and be productive.  And at night I slept great, thanks to the Cleanse Me Tea.  I found that the natural sleep aids in this tea were very impactful in helping me sleep through the night.  I woke up each morning feeling refreshed.
I also noticed some weight loss results while using Naked Me Tea.  I lost about 3 pounds, and felt great while doing so.  Along with using this tea, I ate healthy and worked out consistently.   All 3 of these aspects were the perfect combo for me, and by the end of the 2 weeks, I felt skinny and was even starting to see abs!
Another plus of using this slimming tea is I had fewer breakouts while using it.  Everyone wants clearer skin, right?!
Side Effects
A couple of days after drinking the Boost Me Tea, I was a bit jittery, I think it was due to the caffeine in it.  But it went away quickly, and didn't happen every day.
Price/Value
Naked Me Tea is $34.95 for a 14-day supply.  That's $2.50 per day, which is very expensive, but to me, it's well worth it.
Guarantee
They don't have a money back guarantee, and their return policy is pretty lame too. 🙁
Where To Buy
To buy Naked Me Tea 14 Day Detox, Click Here.
Naked Me Tea: Summary
| Factor | Naked Me Tea |
| --- | --- |
| Overall Rating | |
| Ease of Use | Not as easy as teabags, it's loose-leaf tea. |
| Taste | Tastes really good, like Christmas! And the nighttime tea is minty and refreshing. |
| Notable Ingredients | Yerba Mate, Black Tea, Holy Basil, Spearmint |
| Results | I lost a few pounds, slept great, and had less breakouts! |
| Side Effects | I felt a little jittery after drinking the morning tea some days. |
| Price/Value | It's $2.50 per day, that's very expensive. |
| Guarantee | No guarantee |
| Where To Buy | Click Here |
Category: Detox Tea Reviews