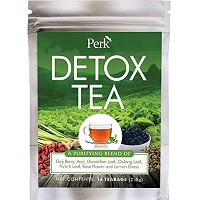 Product Name:  Perk Detox Tea
Overall Rating: 

Morning or Night:  Morning
Price:  $18.89
Teabags or Loose Leaf:  Teabags
Servings Included:  14
Cost Per Serving:  $1.35
Laxative Ingredient(s):  Dandelion Leaf
Moneyback Guarantee:  Yes, through Amazon
Where To Buy:  Click Here
Ingredients:  Goji Berry, Acai, Dandelion Lead, Oolong Leaf, Pu'erh Leaf, Rose Flower and Lemon Grass
Overall Opinion:
When it comes to Perk Detox Tea, I think it's slightly better than most detox teas on the market.
I really like how this tea makes me feel; I feel great while using it.  But unfortunately, I didn't see any weight loss or detox results from it.  So no, it's not a miracle tea, but I do like it.
It tastes really good; it has a mild and fruity taste with a hint of lemon.  The tea has some sweetness to it, which I love.
It contains a mild laxative, but fortunately I didn't experience any side effects from it.  I'm just glad to see that it doesn't contain Senna, which is an ingredient I really don't care for.
So overall, I like this detox tea, but I didn't see as good of results as I was hoping for with it so I gave it 3 out of 5 stars.
Detailed Opinion:
Ease of Use
This detox tea is really easy to use in my opinion.
You only need to drink one cup of this detox tea per day.
It doesn't say when to drink it, but I'd recommend drinking it in the morning due to caffeine content.
The tea comes in tea bags, and you just need to steep it in 6 ounces of water for 3-5 minutes, then you're good to go!
Taste
I enjoy the taste of this detox tea.  Now, it's not the most flavorful, but the flavor it has is smooth and fruity.
It has a light lemon, berry flavor, with a hint of sweetness.  It's not overly sweet, which I like.
I could easily drink this tea daily just because of the taste.
Ingredient Analysis
The ingredients in Perk Detox Tea are overall pretty good.
It has a mild laxative in it… Dandelion Leaf.  Although, I didn't notice any side effects from this ingredient.
In addition, it also includes some good ingredients such as Goji Berry and Acai.
Goji berries have been used for a long time to treat numerous ailments such as high blood pressure, fever, and diabetes.  They're packed with antioxidants and amino acids.
Acai is another great ingredient that's known for its health benefits.  Acai is said to be great for maintaining a healthy heart.
As far as tea goes, it contains both Oolong Tea and Pu'erh Tea.  Oolong has a good amount of caffeine, while Pu'erh has none.
Oolong tea is said to help you manage weight, which is a very welcome effect in my book!
Results
I felt really good while using this detox tea, but I didn't necessarily see any weight loss or "detox" results.
I didn't lose any weight (maybe a pound or two), but I did feel considerably less bloated.
In my opinion, feeling good is just as important as looking good, and Perk Detox Tea definitely helped me feel good.
But don't expect this to be some miracle weight loss tea.
Side Effects
While drinking this tea, I got a slight boost in energy, which is nice.  But an hour or so after, I'd crash and want to nap.
Price/Value
Perk Detox tea is around $19.00 for a 14 day supply.  If you break it down, that's about $1.35 per day, which is an average price point.
Guarantee
I could only find this detox tea on Amazon, so you'll have the standard Amazon guarantee.  Which I think is 30 days, but don't quote me on that!
Where To Buy
To buy Perk Detox Tea, Click Here.
Perk Detox Tea:  Summary
| Factor | Perk Detox Tea |
| --- | --- |
| Overall Rating | |
| Ease of Use | Easy to use, drink one cup each morning for 2 weeks. |
| Taste | Tastes delicious, pretty mild and fruity. |
| Notable Ingredients | Acai, Goji Berries, Dandelion Leaf, Oolong |
| Results | I felt great, but didn't notice much weight loss. |
| Side Effects | I'd get a boost in energy and then crash an hour later. |
| Price/Value | It's $1.35 per day, which is a good price point. |
| Guarantee | Yes, through Amazon |
| Where To Buy | Click Here |
Category: Detox Tea Reviews