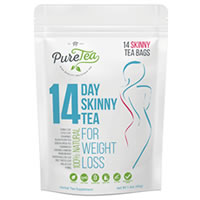 Product Name:  PureTea 14 Day Skinny Tea
Overall Rating:  

Morning or Night:  Morning
Price:  $39.99
Teabags or Loose Leaf:  Teabags
Servings Included:  14
Cost Per Serving:  $2.86 per ounce
Laxative Ingredient(s):  Senna Leaf
Moneyback Guarantee:  No
Where To Buy:  Click Here
Ingredients:  Senna Leaf, Lotus Leaf, Chamomile, Dark Pu'erh Leaf, Sencha Green Tea, Lemongrass, Garcinia Cambogia Extract, Rhubarb Root, Fennel, Marsh Mallow Leaf, Holy Thistle Leaf, Malva Leaf
Overall Opinion:
After testing out PureTea 14 Day Skinny Tea, I gave it 1 out of 5 stars.
I really didn't care for anything about this tea.
For starters, it's very expensive.  And you're basically paying for a powerful laxative that tastes bad.
I did lose a few pounds while drinking this tea, but let's just say it wasn't the healthy way.  I only lost water weight due to the fact that I was using the bathroom so often (due to the Senna Leaf in this tea).  The loss of water weight also led to dehydration and headaches.  To top it off, I gained the weight back immediately after I stopped using this tea.
Another thing I didn't like is the taste.  I could barely choke it down each morning, especially after I felt the effects of it on my body!  I couldn't even finish the full 2 weeks because I felt so bad.
So overall, this isn't a tea I'd recommend.  There are better teas out there that work and taste better than this one.
Detailed Opinion:
Ease of Use
This skinny tea comes as 14 teabags (not individually wrapped)…
They're super easy to use… you just put 1 bag in boiling water for 3-4 minutes.  Make sure to take the tea bag out after this amount of time or else the laxative effect will be overwhelming. (The longer you steep it, the stronger it will be.)
Taste
PureTea 14 Day Skinny Tea tastes gross.
It's very buttery tasting (that's the best way I can describe it) and has an herbal Asian after taste.  I had to choke this one down every morning, and I'd recommend adding lemon or honey to help mask the taste.
Ingredient Analysis
PureTea has Senna Leaf in it, which is a known laxative ingredient.  I don't like Senna Leaf because its laxative effects are SO strong, and in my opinion, unhealthy.
This tea also contains Sencha Green Tea, which is where some of the caffeine in this tea comes from.  Green tea is a great ingredient for weight loss, if used consistently over time.
Black Pu'erh and Chamomile are also included in this tea blend, and both of these teas are said to help with weight loss by curbing hunger.
Results
I noticed I lost about 2 pounds while using this tea, but I didn't feel well at all.  The weight loss was the result of me being extremely dehydrated (due to using the bathroom so frequently), and once I stopped using PureTea 14 Day Skinny Tea, the 2 pounds came back within days.
I think this type of weight loss is extremely unhealthy.  A little bit of a laxative effect is ok (take coffee for example), but this tea has a very strong laxative effect that most people won't like.
Side Effects
The main side effect I had was running to the bathroom every few hours due to the Senna Leaf causing an intense laxative effect.  This caused me to be dehydrated, and my stomach felt uneasy throughout the day.  Let's just say, if you're going to use this tea, make sure you're close to a restroom.
I also had a small headache the first few days after using it.
This one includes caffeine, so it gave me a small burst of energy in the morning as well.
Price/Value
PureTea 14 Day Skinny Tea sells for $40 on their website, which is SO expensive for a 2 week supply.
Basically, I just forked over $40.00 for a strong laxative that tastes horrible.
Guarantee
PureTea doesn't have a money back guarantee.
However, you can return your product within 30 days, only if it's unused.
Where To Buy
To buy PureTea 14 Day Skinny Tea, Click Here.
PureTea 14 Day Skinny Tea:  Summary
| Factor | PureTea 14 Day Skinny Tea |
| --- | --- |
| Overall Rating | |
| Ease of Use | Easy to use, just make sure to not steep too long! |
| Taste | Tastes horrible, like butter and Asian herbs |
| Notable Ingredients | Senna Leaf, Sencha Green Tea, Chamomile, Black Pu'erh |
| Results | I lost 2 pounds in water weight. |
| Side Effects | Diarrhea, dehydration, and small headache |
| Price/Value | This tea is $40 for 2 weeks, that's super pricey. |
| Guarantee | No guarantee |
| Where To Buy | Click Here |
Category: Detox Tea Reviews