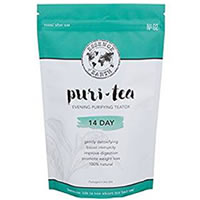 Product Name:  Puri-Tea Detox Tea
Overall Rating:  

Morning or Night:  Night
Price:  $21.95
Teabags or Loose Leaf:  Teabags
Servings Included:  14
Cost Per Serving:  $1.57
Laxative Ingredient(s):  None
Moneyback Guarantee:  No
Where To Buy:  Click Here
Ingredients:  Holy Basil (Tulsi), Spearmint, Rose Hips, Lemon Myrtle, Linden Blossoms, Organic Ginger Root
Overall Opinion:
After using Puri Tea for 2 weeks, I gave it 3 out of 5 stars.  So I think it's a little better than your average teatox.
I really enjoyed its ease of use, you just drink a cup of tea daily before bed.  They also come in teabags, which are really convenient.
The ingredients are also really good, and it doesn't contain a laxative, which is more than amazing!  I hate having to run to the bathroom after drinking a cup of tea.
The taste was just alright.  It tastes like your average mint tea (like a lot of detox teas taste), and I found the mint flavor to be a little too strong for my liking.
As far as results go, my body felt very healthy, but I didn't notice any real weight loss results.  You'd need to use this detox tea longer then 2 weeks to see any significant results.
Detailed Opinion:
Ease of Use
Puri Tea Detox Tea is very easy to use.  It comes in teabags, and you just brew one bag in boiling water for 5-7 minutes.  It's recommend you drink it before bedtime, as it doesn't contain any caffeine.
You can choose to drink it iced or hot, and add honey or lemon if you'd like to as well.
This detox tea doesn't contain a laxative, so if you brew a little longer than 7 minutes, you should be okay.  But I wouldn't recommend it, just based on the flavor of the tea.
Taste
The taste of Puri Tea Detox Tea is okay.  I didn't mind it, but I didn't look forward to my nightly cup either.
It tastes very strongly of mint. If you like spearmint tea, than you may like this one.  It's minty and refreshing.  But for me, the mint flavor was a bit too harsh.  I'd be okay drinking this tea once every few days just based on the flavor.
Ingredient Analysis
This tea has great ingredients that I was really impressed with.
It contains Holy Basil, which is known for its medicinal properties.  It's been said to help with blood sugar levels as well as total cholesterol levels.  Holy Basil is also known to help lower cortisol levels; high cortisol levels can lead to weight gain.  Holy Basil can negatively affect your fertility, so make sure to discuss with your doctor before using this tea.
Puri Tea Detox Tea also has Spearmint in its ingredient lineup. Spearmint is great for your digestive system and can even help reduce gas. Another ingredient included is Rose Hips, which has a lot of the same properties as Vitamin C, and is good for your immune system.
Results
As far as losing weight goes, I didn't see much in this regard.
But, I did feel healthy while using this tea, and I found that I got very good sleep.  My skin was clear, and I think the Rose Hips really helped to boost my immune system.
But if you're looking to lose weight, you'd have to lose this one much longer than two weeks.  This would be a good tea to use long term as it doesn't have any harsh laxatives in it.
Side Effects
I noticed I was getting very restful, deep sleep while using this tea.  That's a very welcome side effect.  I noticed a little grogginess in the morning, but it went away rather quickly.
Price/Value
Puri Tea Detox Tea is $1.57 per day, which is less than average and on the cheaper side.
Guarantee
I couldn't find any money back guarantee, or any return policy for that matter.  I was really disappointed.
Where To Buy
To buy Puri Tea Detox Tea, Click Here.
Puri-Tea Detox Tea:  Summary
| Factor | Puri-Tea Detox Tea |
| --- | --- |
| Overall Rating | |
| Ease of Use | Very easy to use, brew, and drink before bed. |
| Taste | Tastes ok, very strongly of mint. |
| Notable Ingredients | Holy Basil, Spearmint, Rose Hips |
| Results | Didn't lose any weight, but felt really good. |
| Side Effects | Slept good, felt a little groggy in the morning. |
| Price/Value | It's $1.57 per day which is less than your average teatox. |
| Guarantee | No guarantee |
| Where To Buy | Click Here |
Category: Detox Tea Reviews