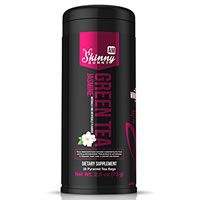 Product Name:  Skinny Bunny Tea
Overall Rating:  

Morning or Night:  Both
Price:  $55.00
Teabags or Loose Leaf:  Teabags
Servings Included:  28
Cost Per Serving:  $1.96
Laxative Ingredient(s):  None
Moneyback Guarantee:  Yes
Where To Buy:  Click Here
Ingredients:  AM Ingredients: Green Tea (leaf), Jasmine (flower)
PM Ingredients: Rooibos, Green Tea (leaf), Lemongrass, Ginger Roots, Juniper Berries, Stevia (leaf)
Overall Opinion:
Skinny Bunny Tea has some really great things about it that makes it an above average detox tea.  So I gave it 4 out of 5 stars after testing it out.
I got the 28-day supply, which came with a workout and diet plan as well.  Let me tell ya, all 3 of these components together (the teas, workout guide, and diet plan), worked great.  By the end of the 28 days, I felt strong, skinny, and less bloated.  I also noticed I had started to gain some muscle in all the right places.
I also really enjoyed the way this tea tastes, especially the AM Jasmine tea.  It was light, refreshing, and just all around delicious.  The PM Lemon tea was good too, although a little bit too sweet for my liking.
The ingredients are great, and I love that neither of these teas (AM or PM) include any laxative ingredients.  That made it easier on my digestive system, and also gave me the peace of mind that I wouldn't be hauling my butt to the bathroom midday.
Both the teas are also easy to use; they come in teabags, which is very convenient.
If I had one complaint, it'd be that their customer service is awful.  I tried to get in touch with them for weeks with no luck.  Oh, and the price is definitely on the high side.
But overall, this is better than your average slimming tea, so I gave it 4 out of 5 stars.
Detailed Opinion:
Ease of Use
Both the Skinny Bunny AM and PM teas comes in teabags.  They're small pyramid teabags, that are super easy to use.
Both of them you steep for 3-5 minutes in boiling water… couldn't be easier.  They have a little string to pull the bag out of the water when you're done steeping.
Neither of these have a laxative in them so you don't need to worry about over steeping (if you accidentally do).
Taste
I ordered the AM tea in the Jasmine Green flavor, but they also have Chocolate, which sounds interesting to me.  The Jasmine Green is delicious!  I loved waking up and looking forward to my cup of Jasmine Green tea.  The Jasmine flavor is light, not too overpowering, but you definitely catch hints of it as you drink it.  Those of you who don't like Jasmine, maybe try the Chocolate flavor.
The PM Skinny Bunny Tea I ordered in Lemon.  This one was sweeter than I expected it to be, it tastes like a tea that already has some honey or sugar added to it.  But I found it was a nice change of pace from the unsweetened Jasmine tea.  I liked the flavor a lot, but it may be a bit too sweet for some of you.  The lemon taste is strong and bold, but not overpowering.
Ingredient Analysis
Skinny Bunny Tea has great ingredients, and I love how few of them there are.  It makes it seem like the tea is more pure without a bunch of additives and flavoring.
The AM tea includes Green Tea and Jasmine Flower, that's it.  The Green tea acts as a great source of energy when you wake up in the morning.  It gave me enough energy to get a head start to my day, but not too much where I felt jittery or over-caffeinated.
The PM tea contains Rooibos, which is a red tea that's said to help with stomach issues.  It claims to help soothe your stomach muscles, and contains powerful antioxidants in it.  Rooibos is also caffeine free.
The nighttime tea also includes Green Tea, which I'm a bit perplexed about.  Green Tea contains caffeine, so it's usually left out of bedtime teas.  That's one thing I didn't like about the PM tea.
Juniper Berries are another ingredient included in the PM tea.  Juniper Berries contain Vitamin C and are used to help support a healthy digestive system.
Results
After 28 days of using these teas, I looked and felt great!  I overall felt less bloated, had more energy, and felt all around pretty healthy.  Keep in mind, they give you a diet/exercise guide to follow as well in order achieve optimal results.
The diet and exercise guide is SO helpful. They give you recipe ideas and daily workouts.  If you follow both these while drinking your tea daily, I don't see how you won't lose some weight and gain some muscle.
After following both these and using their teas, I saw some great changes in my body.  My butt felt stronger and perkier, my abs were more apparent, and I felt like I could get through my workouts without huffing and puffing as much.
Now, this program will take some dedication.  You can't just drink the tea and expect to get skinny.   But if you put in the effort, drink your tea, and eat healthy, you should see great results like I did.
Side Effects
I had a hard time sleeping while drinking this tea.  They include green tea in their PM blend, so I think it was keeping me up at night.
I also felt pretty hungry during this teatox, and I'm guessing it's because I was following their workout guide as well.  Working out tends to make me hungry ALL the time.
Price/Value
Skinny Bunny Tea is $55 for a 28-day supply.  That works out to almost $2.00 a day, so it's on the pricier side.  But, to me it's well worth it.
Guarantee
They do offer a guarantee, but to be honest, I don't see anyone being able to use it. You need to send the product back to them within 14 days or purchase.  I received the product after about a week, so if I wanted to send it back, I'd have no time to try the tea! This is a very weak guarantee.  14 days is not nearly enough time to try the product and then send it back if you're not happy.
Also, I have to mention…Skinny Bunny's customer service sucks.  I ordered the AM and the PM teas, but they both arrived saying "AM" on the bottle.  I emailed them numerous times about this, and heard back over a month later.  They told me this was an "error" on the bottle and the product was in fact the PM tea.  So just hope you don't have an issue with the products, because their customer service is lacking.
Where To Buy
To buy Skinny Bunny Tea, Click Here.
Skinny Bunny Tea:  Summary
| Factor | Skinny Bunny Tea |
| --- | --- |
| Overall Rating | |
| Ease of Use | Very easy to use, they come in teabags. |
| Taste | AM tastes delicious.  PM is good too, although a bit sweet. |
| Notable Ingredients | Green Tea, Jasmine Flower, Rooibos, Juniper Berries |
| Results | I felt and looked great after using the tea and diet and exercise programs. |
| Side Effects | Lack of sleep and hunger. |
| Price/Value | It works out to $2.00 a day, which is a bit pricey, but worth it. |
| Guarantee | Yes, they have a guarantee.  But their customer service sucks. |
| Where To Buy | Click Here |
Category: Detox Tea Reviews