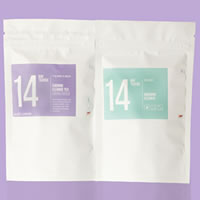 Product Name:  SkinnyMe Tea
Overall Rating:  

Morning or Night:  Morning and Night
Price:  $30.00
Teabags or Loose Leaf:  Loose Leaf
Servings Included:  14
Cost Per Serving:  $2.14
Laxative Ingredient(s):  Senna Leaf, Burdock Root, Dandelion Leaf
Moneyback Guarantee:  No
Where To Buy:  Click Here
Ingredients:  Evening Cleanse: Senna alexandrina (Senna) leaf, Valeriana officinalis (Valerian) root, Apium graveolens (Celery) seed
Morning Cleanse: Sencha Green Tea, Green Oolong Tea, Lemongrass, Artichoke Extract, Yerba Mate Leaf, Burdock Root, Dandelion Leaf, Calendula Flower, Blue Cornflower
Overall Opinion:
I ended up giving SkinnyMe Tea 1 out of 5 stars because there isn't anything I like about it.
For starters, between the morning and evening teas, it contains 2 laxatives, one being very strong (Senna Leaf).
The evening tea comes in packets that you pour in your cup and then pour boiling water over.  So you have no control over how long your tea is brewed, thus giving you a very strong tea with a lot of Senna in it.
Neither of the teas taste good.  The evening tea tasted especially bad, like hot celery water.  I could barely stand to drink it.
Because this tea contains 2 laxatives, I found myself running to the restroom a lot, and in the process, becoming very dehydrated.  I lost a few pounds after the first week, but that was all water weight that I gained back after stopping the tea.
I don't think this tea uses healthy methods to detox or lose weight.  All it does is make you poop a lot, and that can be very unhealthy for your digestive tract and body in general.
And to top it off, they don't have a money back guarantee.
So overall, I didn't like this detox tea very much.
Detailed Opinion:
Ease of Use
This detox tea comes with two parts, a Morning Cleanse Tea and an Evening Cleanse Tea.
The morning tea is loose leaf and the night tea comes in sachets (in a powder form). You drink the morning tea daily, and the evening tea every other night.
I prefer tea bags, just because they're easier to use.  The loose-leaf morning tea you infuse about 1 tsp and steep for 3-5 minutes. I noticed a few little pieces of tea floating around my mug because they escaped the infuser.
The nighttime tea is in a form I've never seen before.  It's a powder (yes, you heard that right…powder tea!).  Which sounds like a cool, interesting way to drink tea and I would've liked it if there weren't Senna Leaf in it.  Whenever I test out a tea with Senna Leaf, I always try to steep in for a shorter amount of time then the directions say, just because I know the harsh effect it has on my body.  But with the powder, I couldn't control how long my tea was steeped for.  You just have to dump it all in and hope for the best.  So I wasn't really a fan of the powder sachets in this case.
Taste
I wasn't impressed by the taste of either the morning cleanse or the evening cleanse.
The morning one just tastes like plain green tea.  Which is fine if you like green tea, but for me, it was just too bland. I drank my cup each morning, but I wouldn't say I enjoyed it.
As for the evening cleanse tea, this one took awful tasting to a whole new level.
The nighttime tea has Celery seed in it, and that is a very strong flavor.  It tasted like I was drinking a hot cup of steaming celery (or vegetable) juice.  It was so bad I had to choke it down.  It also left a really bad, bitter taste in my mouth after drinking it.  Thank God you only have to drink this one every other night.
Ingredient Analysis
The morning tea is packed with both Sencha Green Tea and Green Oolong Tea.  Green tea is said to help with your metabolic rate and also helps your body oxidize fat, thus leading to weight loss.
Oolong Tea is good for your digestive tract, and also can aid in weight loss.
The morning tea also contains Artichoke Extract, which is an ingredient I usually don't see in detox teas.  When I researched it, it said it helps with your digestive tract, and can also help with heartburn and hangovers because it helps stimulate bile flowing from your liver.
The morning cleanse contains Dandelion Leaf as well, which is a mild laxative.
The evening tea contains Senna Leaf, Valerian Root, and Celery Seed.  Senna Leaf is a powerful laxative that I try to avoid when I can.
Valerian Root can help with sleeping problem, thus giving you a calming effect before bed.
Celery Seed is said to have many health benefits including lowering cholesterol and managing blood pressure.
Results
After the first week of using this detox tea, yes I had lost a few pounds.  But I honestly felt horrible with how much I was using the bathroom.  I could tell all my weight loss was purely water weight, and this was proven when I gained it all back upon finishing this detox tea.
I found myself using the restroom 2-3 times a day or more.  It wasn't healthy and I felt weak and dehydrated due to this.
I also noticed I was a little more bloated than I usually am.
So needless to say, I wasn't very impressed with the results of this tea.
Side Effects
I was excessively using the restroom, which just isn't healthy.
I also felt run down, weak, and dehydrated.
This tea also left a really bad taste in my mouth that was hard to get rid of.
Price/Value
At $2.14 per serving, this tea is a little pricier than your average detox tea.  To me, it's just not worth it.
Guarantee
They don't have a money back guarantee, which I was really disappointed about.
Where To Buy
To buy SkinnyMe Tea, Click Here.
SkinnyMe Tea:  Summary
| Factor | SkinnyMe Tea |
| --- | --- |
| Overall Rating | |
| Ease of Use | Use morning and night, morning is a loose leaf tea so it takes more time. |
| Taste | The morning tea isn't great, and the evening tea is disgusting. |
| Notable Ingredients | Senna Leaf, Sencha Green Tea, Green Oolong, Artichoke Extract, Celery Seed |
| Results | I didn't see any results; I gained back all the water weight I lost. |
| Side Effects | Using restroom a lot, dehydration, weakness |
| Price/Value | It's $2.14 per serving and this is a little higher than average. |
| Guarantee | No guarantee |
| Where To Buy | Click Here |
Category: Detox Tea Reviews