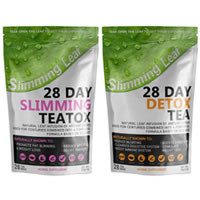 Product Name:  Slimming Leaf Tea
Overall Rating:  

Morning or Night:  Morning and Night
Price:  $77.98
Teabags or Loose Leaf:  Teabags
Servings Included:  28
Cost Per Serving:  $2.79
Laxative Ingredient(s):  Dandelion Root
Moneyback Guarantee:  Yes
Where To Buy:  Click Here
Ingredients:  Slimming Tea: Wu Yi Oolong, Puerh, Dandelion Root, Ginsend (Eleuthero) Root, Marshmallow Root, Cinnamon, Fennel Seeds
Detox Tea: Licorice, Cinnamon, Ginger, Dandelion Root, Fennel, Star Anise, Coriander, Cardamom, Sage
Overall Opinion:
I think Slimming Leaf Tea is better than your average detox tea so I gave it 3.5 out of 5 stars.  I would've ranked it even higher, but it has a controversial ingredient and a steep price tag.
So for the things I like about this tea, I love that it doesn't contain any harsh laxatives (only one mild one), it's easy to use, and tastes pretty good.  I also really liked the results I saw from using this tea.  I looked and felt great.
I don't like that the nighttime detox tea contains Licorice.  It's a controversial ingredient that could have some pretty bad side effects.
The price of this tea is also extremely expensive compared to other detox teas.
But overall, I liked it.  It isn't the absolute best detox tea out there, but it definitely isn't the worst.
Detailed Opinion:
Ease of Use
Slimming Leaf Tea is very easy to use.  Both the teas come in prepackaged teabags, which is very convenient.
You drink one in the morning before or with your breakfast, and one at night after dinner.  Both of them you brew only 4-5 minutes.  Easy enough!
The morning tea has a little bit of caffeine in it, while the nighttime tea doesn't contain any.
Taste
The morning slimming tea is very bland, although it smells like delicious cinnamon.  The cinnamon smell didn't really come through in the taste.  It just tasted like plain old tea.
The detox tea has more flavor, it tastes like Good and Plenty candies.  It has licorice in it, so that explains why it taste so strongly of licorice.  If you don't like the taste of licorice, you won't care for this one, but I really enjoyed it.
Ingredient Analysis
Both of these teas have a nice ingredient lineup.
They both contain a mild laxative, Dandelion Root.  Although, I didn't find that it gave me any harsh side effects like Senna Leaf does.
The morning slimming tea contains both Ooling and Puerh tea.  I love both of these teas for many things including weight loss.  Oolong is said to be great for cholesterol, heart disease, and even managing your weight.  It helps boost your metabolism, and let's be honest, who doesn't want that?!
Puerh is another tea that's claimed to be great for your heart and also managing your weight. It contains a small amount of a chemical called lovastatin, which is a drug used to lower cholesterol.
Both Puerh and Oolong contain small amounts of caffeine for some added energy as well.
Now, the nighttime detox tea has some interesting ingredients too.  First, it has licorice, which is an ingredient that I'm not sold on.  It can actually have some scary side effects if it's not used as directed.  It's said to increase the risk of miscarriage in pregnant ladies.  It can also raise your blood pressure.  So definitely make sure to speak with your physician before using this tea.
The detox tea also contains Star Anise, which is said to have antifungal properties and packed with antioxidants.  This is an ingredient I really like.
Both the morning and nighttime teas contain Dandelion Root, which is a mild laxative.  I don't really mind this laxative because it doesn't have an explosive impact on my body like Senna Leaf does.  It kind of just regulates your body's natural cycle.
Results
I found that I felt really good while using this detox tea.  My body felt very regulated, and I had a lot of energy.  I also noticed that I lost a little weight, and was even able to keep it off after I stopped using this tea.  So I think this tea is a beneficial addition for those of you who are already eating healthy and working out.
Now, like all detox teas, this one is not a miracle tea.  You need to eat healthy and exercise in order to reap the benefits of it.  But if you do, I think you'll be very happy with your results like I was.
Side Effects
I didn't really have any side effects while using this tea, which was great!
Price/Value
This detox tea is very pricey at $77.98 for a 28 day supply.  In my opinion, it's better than your average detox tea though.
Guarantee
Yes, they have a great guarantee!
You can return it within 90 days even if it's been used.  I love it when companies stand behind their detox teas!
Where To Buy
To buy Slimming Leaf Tea, Click Here.
Slimming Leaf Tea:  Summary
| Factor | Slimming Leaf Tea |
| --- | --- |
| Overall Rating | |
| Ease of Use | Easy to use, one cup in the morning and one at night |
| Taste | Morning tea is bland, but evening tea tastes like licorice |
| Notable Ingredients | Licorice, Puerh, Wu Yi Oolong, Dandelion Root |
| Results | I lost a little weight and felt great. |
| Side Effects | No side effects |
| Price/Value | It's very expensive at $77.98 for a 28 day supply. |
| Guarantee | Yes, they have a 90 day money back guarantee. |
| Where To Buy | Click Here |
Category: Detox Tea Reviews