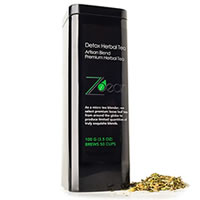 Product Name:  Zoean Detox Herbal Tea
Overall Rating:  

Morning or Night:  Either
Price:  $5.88
Teabags or Loose Leaf:  Loose Leaf
Servings Included:  50
Cost Per Serving:  $0.12
Laxative Ingredient(s):  None
Moneyback Guarantee:  Yes
Where To Buy:  Click Here
Ingredients:  Peppermint, Coriander, Fennel, Cumin, Lemongrass, Ginger Root, Black Peppercorns
Overall Opinion:
This tea for the low price pleasantly surprised me.
I decided to give it 3.5 out of 5 stars after trying it out.
I like most things about this tea, but there are a few small drawbacks.
As far as what I like, I really like that this detox tea doesn't contain a laxative.  Its ingredient lineup is great.  It contains a few ingredients that are uncommon for detox teas.  But after researching, I found the ingredients have great benefits.
You can't beat the price of this one; it's so cheap compared to most detox teas.  It's also pretty easy to use, and comes in pretty packaging.
I noticed I felt really good while I was using this tea.  My digestive tract was very regular, and my overall health felt good.  I lost about 1-2 pounds while using this tea, which I was pleased with.
Now for the bad, I'm not a huge fan of the taste.  It has a lot of herbs/spices in it, so it tastes almost like you're drinking a meal (with hints of mint in it).  It wasn't the worst tea I've tried, but it wasn't my favorite either.
So overall, this is better than your average detox tea (especially for the price), so I gave it 3.5/5 stars.
Detailed Opinion:
Ease of Use
Zoean Detox Herbal Tea is a loose-leaf tea that comes in a nice container, unlike most teas that are packages in bags.
The container did make it a bit harder to get the tea out of however. I found that when I was trying to scoop out my tea, some of it fell on the counter.
But other than that, this detox tea is very easy to use.  You just put 1 tsp in a diffuser and steep in boiling water for 6-8 minutes.  This tea is naturally laxative and caffeine free, so you don't really need to worry about over steeping it either.
Taste
To me, this tea tastes weird.
It has an odd combination of ingredients, and the spices really overpowered the taste of the tea.  I could taste a lot of coriander and cumin in it, so I felt like I was drinking an actual meal.  I could taste hints of mint as well, but the mint taste was muted in comparison to the spices.
It's overall a pretty mild tasting tea, but I didn't exactly look forward to drinking it daily.
Ingredient Analysis
I really like the ingredients in this tea, especially because it doesn't contain any laxatives.
Although, some of these ingredients aren't ones you find in your average detox tea.
Coriander is one of the main ingredients in this tea.  Coriander are the seeds from cilantro plant, and they have a very similar taste to cilantro in my opinion.  Coriander is said to have "cooling effects' and can also aid in digestion.
Cumin is another ingredient in Zoean Detox Herbal Tea.  To be honest, I've never seen this spice included in tea before and I was a bit skeptical.  But after doing some research, I found out that Cumin is pack with nutrients, and can help with a lot of ailments from weight loss to intestinal worms and insomnia.
Results
I didn't notice any significant weight loss while using this detox tea (no detox tea is a miracle worker).  But I did notice my some improvement in my digestion and I also felt pretty good overall.
This tea kept me very regular (if you catch my drift), but I didn't have any of the harsh side effects you get while taking laxatives.  This tea doesn't contain any laxatives, so it just naturally regulated my body.
I like how gentle this tea was on my stomach, and I also noticed less bloating while I was using it.
I didn't really notice any increased energy, but that's because this tea is caffeine free.
At the end of the detox tea, I noticed I lost about 1-2 pounds, which I was very happy with because I felt great too.
Side Effects
I really didn't have any side effects while using this tea, which I was pleasantly surprised by.
Price/Value
Zoean Detox Herbal Tea is only $5.88!  That's one of the cheapest teas I've seen.  It works out to only $0.12 per serving, which is a very low price point.
Guarantee
Yes, they say they have a guarantee through Amazon, but I couldn't find out what the actual guarantee is.  So it makes me a bit hesitant to believe they have a real money back guarantee.
Where To Buy
To buy Zoean Detox Herbal Tea, Click Here.
Zoean Detox Herbal Tea:  Summary
| Factor | Zoean Detox Herbal Tea |
| --- | --- |
| Overall Rating | |
| Ease of Use | It got on the counter, drink once per day. |
| Taste | Has an odd taste, like spices. |
| Notable Ingredients | Coriander and Cumin |
| Results | I felt good and it helped my digestive tract. |
| Side Effects | None |
| Price/Value | This tea is SO cheap, only $5.88. |
| Guarantee | Yes, via Amazon |
| Where To Buy | Click Here |
Category: Detox Tea Reviews